Army exercise blunts bumper Belarus mushroom harvest
By News from Elsewhere...
...as found by BBC Monitoring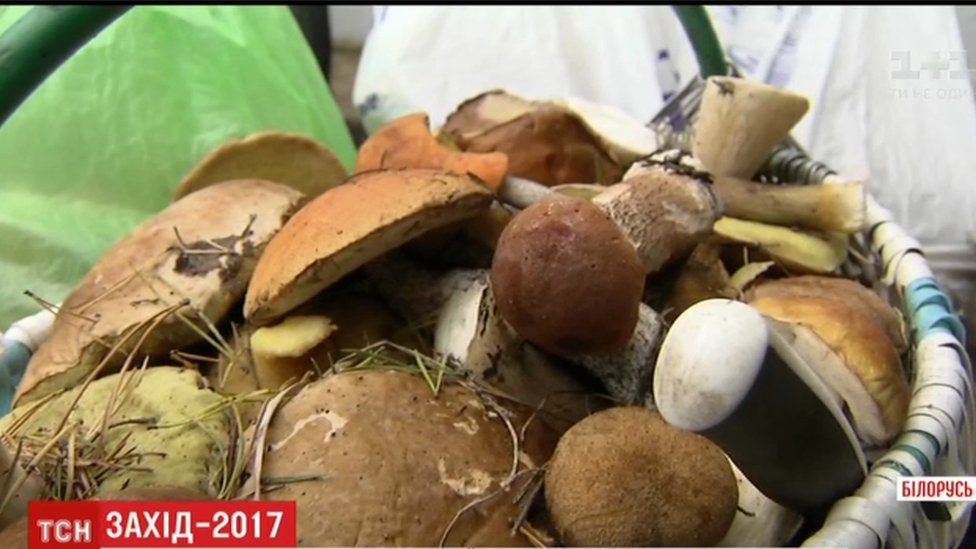 The Russian-led Zapad 2017 military exercises in Belarus are news because of NATO fears about their wider strategic implications, but some villagers are more worried about tanks disrupting this year's bumper mushroom harvest.
You will find no criticism of Zapad 2017 on state-controlled TV, but other media have relayed complaints about draconian bans on entering forested areas where the exercises are taking place.
The TUT.by news portal reports that several towns and villages near the borders with NATO members Poland, Lithuania and Latvia have been ordered to keep 2 km (one mile) away from areas where the Russian and Belarusian armies are carrying out their drills.
"This means no harvesting, no pasturing of livestock, no picking of berries or mushrooms, no fishing, no tree-cutting, and no hunting, on pain of substantial fines," TUT.by reports, adding that the town of Hlybokaye near the Lithuanian border has been put under a dusk-to-dawn curfew from 14 to 20 September because of night manoeuvres.
The ostensible reason is to protect civilian lives, but many people complain that the measures are over-zealous, according to interviews with local people conducted by US-funded Radio Liberty's Belarusian Service.
Villagers from Asipovichy District in the east to Ivantsevichy near Poland all said that they would not dream of going into the woods and fields while tanks and artillery are in action, but see no reason why they can't go about their usual business when the guns are quiet.
All the more so as this year's mushroom season promises to be one of the best in years. Belarusian social media are full of stories of what the Charter 97 site dubs "mushroom fever".
A TV correspondent from the 1+1 channel in neighbouring Ukraine decided to resample the public mood in Asipovichy District, now that the manoeuvres are underway.
He found that many local people supported the idea of the manoeuvres, but hardcore fungophiles were still unimpressed with being kept away from their ceps. One elderly villager in Pratasevichy told him "there's a bunch of tanks just standing there, but they still shoo us away".
Reporting by Evan Ostryzniuk and Martin Morgan
Use #NewsfromElsewhere to stay up-to-date with our reports via Twitter.