Egypt social media users mock college flag ceremony
By News from Elsewhere...
...as found by BBC Monitoring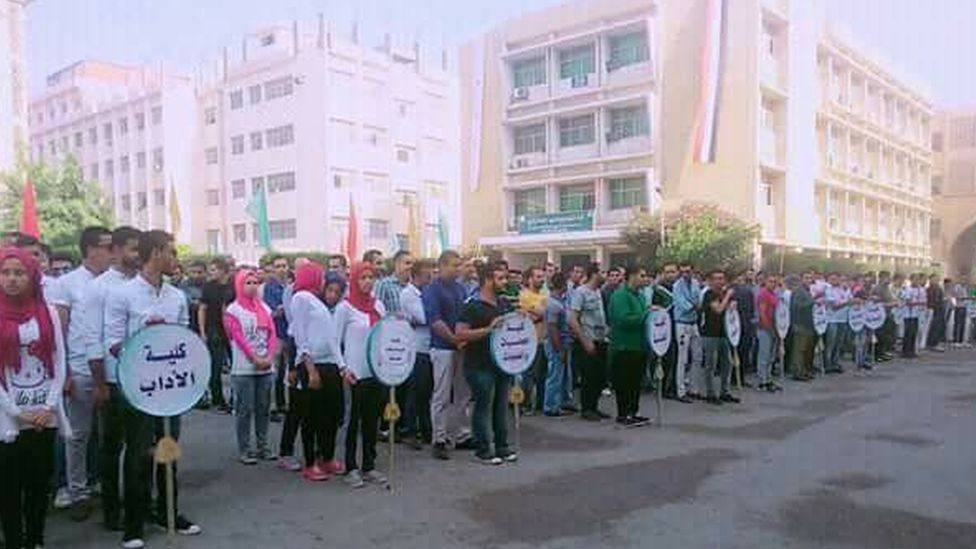 The Egyptian government has decreed that the country's 2.5m college students should salute the flag at the start of the academic year, in a move that has prompted widespread online mockery.
Standing to attention as the state flag is raised to the strains of the national anthem has long been a daily routine in schools, but the decision to copy the ceremony in colleges - albeit just once a year - has earned the Arabic-language hashtag "what do you think about saluting the flag?" over 38,000 tweets since the weekend announcement.
Higher Education Minister Khaled Abdel Ghaffar told reporters the move was part of a ministry campaign to "instil a sense of belonging and the spirit of the nation in every student". He added that other "religious, cultural, artistic and political activities", including field trips to sites of national significance, will follow, Al-Ahram newspaper reports.
Footage and images of students at the new ceremony have been widely shared on mainstream and social media, including some of Mr Abdel Ghaffar and university administrators in attendance as a scout raises the flag and a military band plays.
But Egyptian students may have more pressing matters on their minds. Al-Ahram recalls that the government raised accommodation fees this year, and Mr Abdel Ghaffar gave a clear indication in his weekend remarks that the 2015 ban on student unions and political societies will remain in place when he said "there will be no space for partisan activities in universities."
Some online comment has supported the innovation. "Soldiers around the world salute the flag of their country and die to raise it. We are no less patriotic," wrote one Twitter user, but most social media remarks have been critical of the nationalist aspect of the flag ceremony. "They teach us to love our country while they make us hate it," was one indignant comment.
Some commentators even drew parallels with European Fascism. "This is the mentality of Mussolini's rotten state," tweeted journalist Rasha Azzab. Writer Amr Bakly went further, posting an historic photograph of schoolchildren saluting Adolf Hitler to accompany the popular hashtag.
A common theme has been to question the government's right to demand demonstrations of patriotism after it handed over two islands in the Red Sea to Saudi Arabia. As one Facebook user asked, why should "only students, and not ministers, MPs, civil servants and the private sector, salute the flag each day?".
Reporting by Mariam Rizk and Martin Morgan
Use #NewsfromElsewhere to stay up-to-date with our reports via Twitter.