Ukraine women's football clip prompts online sexism row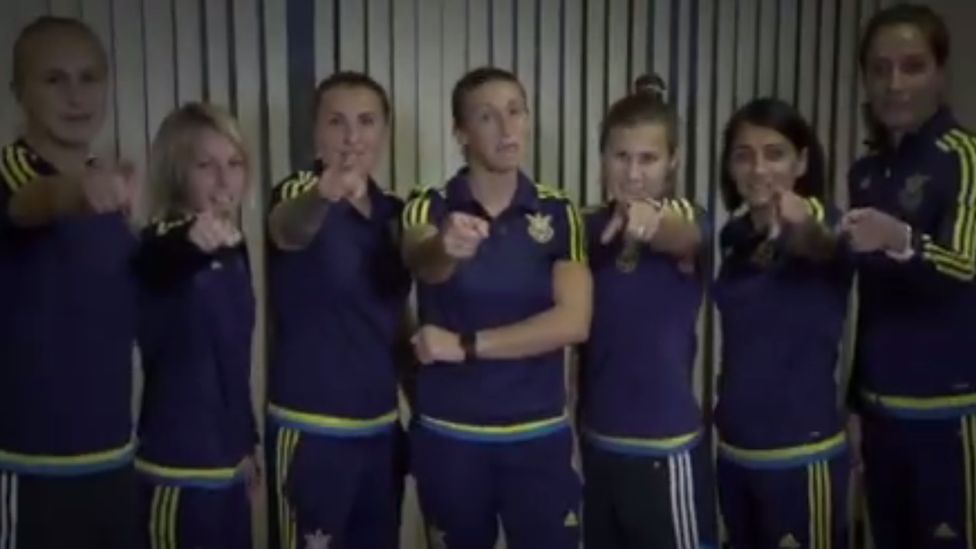 A video clip promoting a women's football international fixture has kicked off a row on Ukrainian social media over its sexualised content.
The clip shows a close-up of the face of a gently moaning woman, with glossy lips parted in apparent sexual pleasure, before leaping to the Ukrainian women's football squad shouting "we're not faking it!" at the camera.
It was shown on the Futbol-1/2 TV sports channels to promote coverage of the FIFA Women's World Cup qualifier between Ukraine and Croatia.
Oleksandr Denysov, the director of Futbol-1/2 TV, says he considers it the channel's "duty to relay this top-quality match" as part of its commitment to supporting women's football in Ukraine.
The controversial promotional clip hit social media at home and in the large Ukrainian community abroad when the Ragu.li entertainment website posted it to its Facebook page.
"Just look at this video, the ending will astonish you. Ukrainian TV channels have hit a new low. No faking, straight up," Ragu.li says, and most comments on the page agree. "Is it really not possible to get people interested in a sporting event in a normal way?" asks one reader.
Some comments reflect concerns at what the ad says about society in general. "If Ukraine had a real women's rights movement, it would have filed a lawsuit against this low of sexism and male chauvinism," says Nathalie Ishchenko.
"It doesn't take a lot of brains to work out that sex sells, but if you want to join Europe and become progressive you've got to do better than this," agrees Victoria Grando from Canada.
Football culture is to blame, for many readers. One says it's unfair to single out the Ukrainian squad "given the number of women's teams around the works that have posed nude".
Another comment thinks such "cheap porn" is predictable when the target audience for sports channels seems to be "stuck at the teenage stage of sexual development".
There are a few readers prepared to praise the clip. Illya Visochuk ventures cautiously that he "liked it. It is an all-time low, but it's not disgusting." But Andriy Rusanov is far bolder, telling critics to "Get thee to a nunnery".
"Save yourselves, run off to the Old Believers in Siberia," he jeers, referring to an 18th century Russian sect. "Civilised society is getting more liberated by the year, and the hysterics can do nothing about it."
Ragu.li will perhaps not be surprised to learn that mainstream Ukrainian media in the form of the Obozrevatel website chose to use the Siberia quotation in its headline to the story.
For the record, Ukraine drew one-all with Croatia.
Reporting by Mariya Kondrachuk and Martin Morgan
Use #NewsfromElsewhere to stay up-to-date with our reports via Twitter.