Canadian airport in Inuit 'ill-omen' art row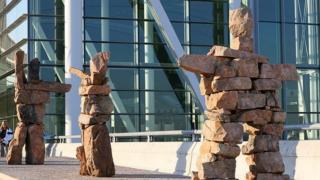 A veteran politician says an installation of traditional Inuit art outside Toronto airport resembles a symbol of ill-omen.
Piita Irniq says one of three inuksuks - stone cairns that are sometimes built in a human shape - outside Terminal One of Pearson International Airport was "put together wrong". He says its clearly defined legs and raised arms mean an "area where someone was killed or died by suicide," the Canadian Broadcasting Corporation reports.
He says they should be rebuilt under Inuit guidance or taken down. Mr Irniq's opinion carries weight, as he has been active in the political and cultural life of what is now the Nunavut territory of Canada's far north since the 1970s, and is himself a noted builder of inuksuks.
These cairns, also known as inukshuks, were originally used for orientation in the often featureless Arctic tundra. They are of great cultural significance to the Inuit, and one appears on the Nunavut flag.
'Place of horrible death'
CBC inspired a lively debate when it put photos of the Toronto inuksuks on its Nunavut Facebook page, with some Inuit readers wonder whether the airport really wants to brand itself as a "place of horrible death". Others express appreciation of the art pieces, or dispute that they are inuksuks in any traditional sense. One wag thinks they may have the local ice hockey team in mind, "signifying that the Toronto Maple Leafs are dead".
The inuksuks were installed by noted Inuit artist Kiakshuk in 1963-1964, and Mr Irniq says they must have been reassembled incorrectly after a period in storage in the early 2000s.
He suggests that a pyramid-shaped inuksuk with a peephole, like the one he helped build at Ottawa airport, would be more appropriate, as it signifies the "direction of good hunting or fishing grounds," CBC reports.
But several Facebook users as well as CBC itself reproduce old photographs and magazine spreads that show the Toronto inuksuks look much the same as they did back in the 1960s.
Either way, Robin Smith of the Greater Toronto Airports Authority says the airport was unaware that people were unhappy, and is already talking to Piita Irniq about how to improve the display.
"Toronto Pearson is like a front door to Canada for many people," he told CBC, and "wants to represent Inuit culture in the best possible way".
Reporting by Martin Morgan
Next story: Lost Greek temple found after steps recounted
Use #NewsfromElsewhere to stay up-to-date with our reports via Twitter.