Soviet mural enjoys rare Estonian restoration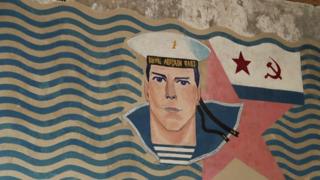 A group of Estonian artists has restored a mural of a sailor at an abandoned Soviet naval base, in an effort to address their country's troubled history with Russia.
Hilkka Hiiop, a professor at the Estonian Academy of Arts, led the restoration work at the naval club on the small island of Naissaar just off the shore near the capital, Tallinn. She told Postimees newspaper that her team first had to ask whether they should restore it at all.
"At first I thought why is it that we don't have money for a medieval church, but we do for this? But the aim is not simply to restore this mural, but rather to promote a broader understanding of the military art," she said.
Soviet military monuments are still a very controversial matter in Estonia, more than quarter of a century after Estonia regained its independence from Soviet rule.
A very public row over moving a Soviet Army memorial in Tallinn led to a major cyber attack on Estonian government, media and banking websites in 2007, widely attributed in Estonia and elsewhere to the Russian government.
'Can't erase our history'
Councillor Ott Kask, who is in charge of cultural projects for the local Viimsi County, believes Estonia should not ignore important aspects of its recent past, no matter how painful.
"Naaissar has retained the stamp of its Tsarist and, of course, Soviet military history. Momentous events have taken place here, and this mural exemplifies it. It is history, after all," he told the paper at the unveiling of the mural.
The county helped fund the project, which came in at a steep 8,000 euros ($9,500; £7,000) because of the difficult working conditions. The Delfi internet portal reports that the mural was originally painted in 1985.
"All considered we did a very good job, given that the mural was in a very poor state," Professor Hiiop said. She was proud that they managed to preserve 95% of the original paintwork. She agrees with Ott Kask that reminders of the Soviet occupation need to be preserved, as memories of the actual events fade. "We can't erase our history," she told Postimees. "And art doesn't just tell one story when there so many levels to pursue."
She says her group next plans to map all the remaining military monuments in the country, and "analyse them in detail".
Work on the project also had its lighter moments, as Professor Hiiop told Eesti Ekspress newspaper that her team decided to call the sailor Alfonso. She wasn't sure why, but assured any readers with heightened cultural sensitivities that they "spelled the name in the Russian alphabet".
Reporting by Martin Morgan
Next story: Canadian airport in Inuit 'ill-omen' art row
Use #NewsfromElsewhere to stay up-to-date with our reports via Twitter.