Malaysians in a lather over laundrette for Muslims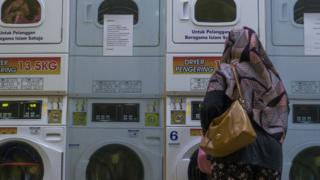 Laundrettes offering their services to only Muslim customers have stirred up quite a debate in Malaysia, where about two-thirds of the population practise Islam.
A photograph of a signboard advertising the "Muslim-friendly" laundrette in the state of Johor first started circulating on social media earlier this week.
"This laundrette only accepts Muslim customers for reasons of purity," it said. "Any inconvenience is very much regretted."
'Cleanliness as a whole'
The owner, who did not want to be identified, told The Star newspaper: "For Muslims, it is not just about clean clothes but cleanliness as a whole. I am just providing an avenue for Muslims to do that."
He also told The Malaysian Insight website that his customers had requested such a service. The website said the sign had been put up about a month ago.
Many Malaysians, both Muslim and non-Muslim, expressed dismay at the news - including the state's sultan, Sultan Ibrahim Ibni Sultan Iskandar, who said the royal family were "deeply appalled" by the incident. He ordered the laundrette to stop its discrimination immediately or risk being shut down.
While sultans in Malaysia are largely ceremonial heads of state and do not have regulatory powers, they are the authorities on Islam and wield considerable political influence.
'Extremist in nature'
"This is not a Taliban state and as the head of Islam in Johor, I find this action to be totally unacceptable as this is extremist in nature," he told The Star. "This is Johor... and it belongs to all races and faiths. This is a progressive, modern and moderate state."
The incident has stirred deep feelings in Malaysia, where the balance between respecting Islamic law and customs and ensuring constitutional freedoms is a hot topic.
One popular comment being shared on Twitter said: "Not letting non-Muslims use these self-service washing machines on the pretext of cleanliness is something that blackens the name of Islam."
Some, however, also thought the issue had been blown out of proportion, given other discriminatory practices that exist.
"So many Chinese are angry when they see laundry 'for Muslims only'," said another popular tweet. "These Chinese have never seen houses/rooms to rent 'for Chinese only'?"
Others also argued that the laundrette owner had every right to market his services to an exclusive community - though not all agreed.
"This issue of the laundrette is not because he is limiting his market. The issue is he said he 'prioritised purity' - indirectly you're saying non-Muslims' clothes are not pure," explained another Twitter user.
Following Sultan Ibrahim's admonishment, the laundrette owner apologised and removed the sign in front of the shop.
Just as the furore looked to be dying down, however, reports have emerged of another laundrette, in another state, doing exactly the same thing.
Reporting by Tse Yin Lee
Next story: Soviet mural enjoys rare Estonian restoration
Use #NewsfromElsewhere to stay up-to-date with our reports via Twitter.