New Zealand advert challenges casual homophobia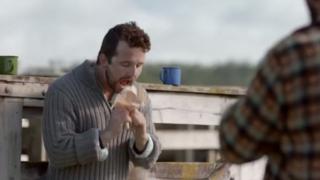 An advert is calling out New Zealanders over the negative use of the word "gay" through the medium of a dropped pie.
LGBT rights charity Rainbow Youth released to video to draw attention to casual homophobia, where people use the word in the wrong context, New Zealand Herald reports.
The video, viewed over 355,000 times already on the group's Facebook page in its first two days, shows a farmer being chastised by his colleague for saying "gay" after he drops his pie on the ground.
"Actually Nigel, that's not gay at all. It's deeply disappointing, but it's not gay," the pie-dropper is told.
"Unless that pie is a man who loves another man, it's not gay," his colleague continues, while another worker chips in with "Or a woman who loves another woman."
The clip ends with a fourth worker admitting that he's actually "quite gay", followed by the tagline "If it's not gay, it's not gay," Stuff.nz news website says.
Positive and empowering term
Frances Arns of Rainbow Youth said the group was overwhelmed by the positive response to the advertisement, and hoped it would make New Zealanders think twice about habitually using the word "gay" as a pejorative term.
Misuse of the word "perpetuates homophobia, and can be especially challenging for young people as they're developing their identity," she told Stuff.
Rather than an expression of disappointment, "gay is an important word within the rainbow community that people use to express their identity and sexuality. It's a positive and empowering term," Ms Arns concludes.
Reporting by Alistair Coleman
Next story: South Korea's president turns traffic reporter
Use #NewsfromElsewhere to stay up-to-date with our reports via Twitter.