UAE drivers face 'park and pray' fines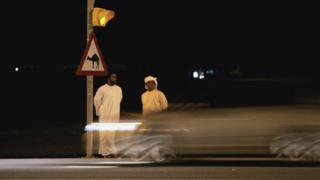 Drivers in the United Arab Emirates have been told that they face fines if they park at the roadside to pray.
The warning comes from a senior police official after an accident in Dubai in which two people were killed, the Gulf News reports.
Brigadier Saif Muhair Al Mazroui told the paper that drivers will be fined 500 dirhams ($136; £103) if they're caught.
With mosques and petrol stations offering safe places to park for prayers, he urged drivers to use these alternatives instead.
"It is not acceptable for motorists to park on the side of the road for praying, especially on highways," he said. "Saturday's accident is a strong message to other drivers that it is dangerous to stop on the side of the road near the traffic flow."
Another senior official took to Twitter to say "The roadside is not a proper place to offer prayers, it can endanger the lives of worshippers."
Fatal accident
According to The National news website, the accident occurred when a car ploughed into a group of worshippers after a tyre blew out.
The vehicle hit eight people offering their early evening Al Magreb prayers outside a mosque, killing two and leaving the rest injured, three seriously.
Police say that the driver had been speeding.
Dubai recently introduced tougher penalties for driving offences, including fines of 3,000 dirhams ($816; £620) for the worst cases of speeding.
Next story: Danish horse owners face six month wait to feed the lions
Reporting by Alistair Coleman
Use #NewsfromElsewhere to stay up-to-date with our reports via Twitter.