Iceland campaigners to redress drop in women MPs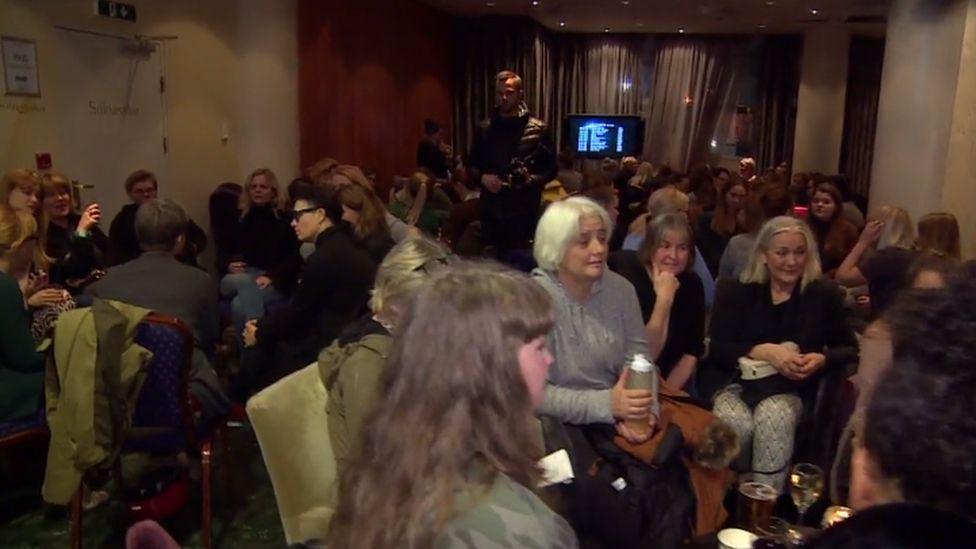 Iceland's general election has seen a sharp fall in the number of female MPs, prompting a group of activists to launch a campaign to make sure the new parliament doesn't ignore women's issues - perhaps going as far as to set up a new political party.
More than 120 women gathered in the capital Reykjavik in response to a call on the new Facebook group Kvennaframbod (Women's Candidacy) to do something about the drop in the number of female MPs. The proportion of men to women - 33 to 30 in the previous parliament - is now 39 to 24, the lowest tally of women MPs since 2007.
Soley Tomasdottir of the Left-Green Movement told Iceland TV that Women's Candidacy fears a "huge blow to equal rights" in a country that has always prided itself on its feminist credentials, unless political parties are prepared to address the problem seriously.
The issue of women's representation is particularly acute because the election was triggered in part by a scandal over violence against women.
The father of Prime Minister Bjarni Benediktsson had written a letter of recommendation, saying a convicted paedophile who had repeatedly raped his own stepdaughter should have his "honour restored". The government then compounded the row by trying not to reveal who had written the letter.
'Sexual violence and secrecy'
"Despite the feminist waves of recent years and decades, and despite the government disbanding over sexual violence and secrecy, we still got an election campaign based entirely on traditional male-centric terms," Soley told Icelandic TV.
The Reykjavik meeting adopted a resolution, posted on Facebook, declaring that unless political parties make women's rights a priority for the next government, they themselves are ready "to take action, armed with radical emotion and emotional radicalism. Down with the patriarchy!"
Soley Tomasdottir is certainly enthusiastic about their prospects. "This is the beginning of something wonderful," she told the Visir news site.
Iceland has a proud history of women's political advocacy, dating back to before the First World War.
Women have voted in parliamentary elections since 1920, Vigdis Finnbogadottir was the world's first elected woman president in 1980, and the country tops the World Economic Forum's gender gap index.
More recently, the Women's List (Kvennalistinn) won between three and six seats in parliament from 1983 until it split between the Social Democratic Alliance and Left-Green Movement in 1999.
'Current situation is unacceptable'
The current parties are keen to defend themselves against Women's Candidacy's accusations. The Centre Party's Gunnar Bragi Sveinsson acknowledges that his party has the lowest number of female MPs, but told the Iceland Monitor site newspaper that it is difficult to persuade women to stand.
Unnur Bra Konradsdottir of Prime Minister Benediktsson's centre-right Independence Party is having none of this, and blames the parties themselves. "They simply do not put women high enough up on the candidate lists", so fewer are elected, she told Iceland Monitor.
A former speaker of parliament, she herself lost her seat at the election.
Soley Tomasdottir says a women's party is one of the options the Reykjavik meeting considered in order to boost the number of women candidates. "The current situation is unacceptable. Politics needs to get better for women and feminism in Iceland," she told Iceland TV.
Reporting by Martin Morgan
Use #NewsfromElsewhere to stay up-to-date with our reports via Twitter.