Halloween hockey fans take Belarusian police by surprise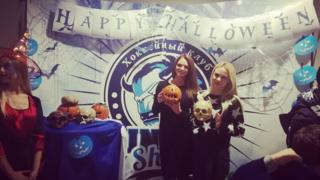 A Halloween costume competition at a Belarusian ice hockey match nearly went wrong because the police weren't warned that hordes of fans would turn up dressed as ghouls and witches, it's reported.
Ice hockey giants Dinamo Minsk were playing their Russian arch-rivals Spartak Moscow in a key home match on 31 October, and they decided to mark the occasion with a photo competition for the best fan costume, Nasha Niva newspaper reports.
Entrants were asked to post photos on the team's various social media accounts with the hashtag #DinamoHalloween, so that fans could vote for the winner.
However, as the team forgot to inform the police, many were stopped by officers who told them to remove their masks, cloaks and make-up or else make do with watching the game on TV.
"Me and my friend painted our faces, but the police told us to wash it off or else they wouldn't let us in," one female fan complained to the paper.
Many users took to the team's VKontakte social media page whether they'd managed to brave the police checks.
It seems the unhappy fans hadn't read the small print in Dinamo's costume call, which spelled out the Kontinental Hockey League's ban on "clothes and other means of concealing the identity, meaning that masks and make-up that make identifying fans difficult are not allowed".
Some VKontakte users said that the police had over-reacted. "If you look at what the National Hockey League fans in Canada and the US wore at Halloween, you'd know there's nothing to see here," wrote one.
Nonetheless, the club said the photo competition went ahead "despite all the difficulties", and the young woman that had won the fans' online poll would receive free tickets for the next game, a special prize, and the title "Best Fan of the Match".
The team beat Spartak 5-4, perhaps reminding one Belarusian sports writer of the time he had to eat his own newspaper for predicting a poor season for Dinamo.
Reporting by Vitaly Shevchenko, Martin Morgan
Next story: Iceland campaigners to redress drop in women MPs
Use #NewsfromElsewhere to stay up-to-date with our reports via Twitter.