Rebrand for Finland's baby boxes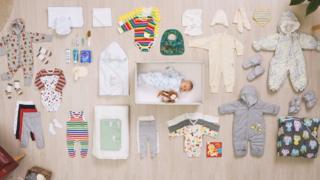 Finland is hoping to rebrand its celebrated baby box with a new, more inclusive name as the government gift for new parents celebrates its 80th anniversary.
National benefits agency Kela, which administers the scheme, launched the discussion earlier this week, asking "Does the name of the maternity kit discriminate against dads?", national broadcaster Yle reports. "Or is maternity box so good a name that it should not be replaced?" it adds.
Finns can suggest new ideas and vote on the name on Kela's website.
In Finland, the gift is known as the maternity box, and the suggested change has led to a spirited discussion, as well as some off-the-wall ideas.
While many of the comments on newspaper Ilto Sanomat's Facebook page thought changing the name would be a waste of time and money, others picked up the idea and ran with it.
Amid the more sober posts suggesting "baby kit" or "family kit", one poster quipped "How about the 'consequences of sex kit'?"
Starter kit
The box is a gift from Finland to expectant mothers, and is a starter kit of clothes, sheets and toys.
A mattress at the bottom transforms the box into a bed.
It has been credited in some quarters as helping Finland achieve one of the world's lowest infant mortality rates.
The government offers a cash grant as an alternative gift, but the vast majority of parents opt for the box.
For the whole family
Families Minister Annika Saarikko told Ilta Sanomat that the idea for the name change came as the government was discussing an increase in the maternity box scheme budget. Changing the name, she said, "would delight many fathers".
Ms Saarikko says that the end result need not be about gender neutrality, but rather focussing on the family. "Most of the products are directed at the baby," she says, "Getting a package is a great joy for the whole family, including the father. That's why I am thinking about this."
But in a society where not all children are born into the traditional nuclear family, even that lofty ideal faces problems.
"What do you mean 'family kit'?" one commenter said of a popular suggestion. "Not all mothers have a family before the baby is born."
Reporting by Alistair Coleman
Next story: 'Mr Police' lands a job with Indonesia's police
Use #NewsfromElsewhere to stay up-to-date with our reports via Twitter.