Japan enforces new road rules for 'Mario Kart' drivers
By News from Elsewhere...
...as found by BBC Monitoring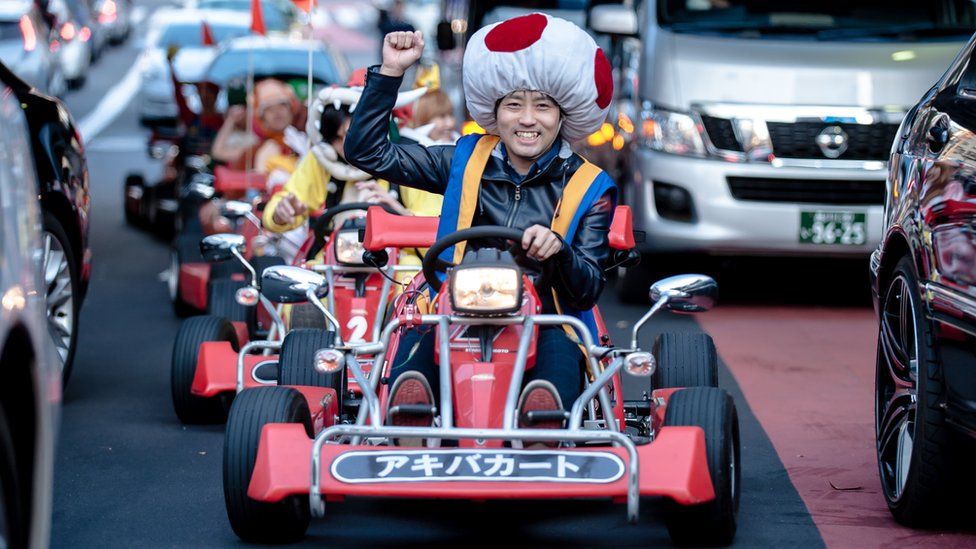 Japan is to introduce new traffic laws to deal with the fad for fancy dress go-kart tours on the streets of Tokyo, it's reported.
Tourists who go on the tours dressed as characters from the Mario Kart video games will have to wear seatbelts, while operators will have to update their motorised carts to improve safety standards, the Japan Times reports.
A legal loophole in the Road Transport Vehicle Act means that go-carts are currently classified as both scooters and four-wheel cars. Scooter drivers in the country are not required to wear seatbelts, and drivers of cars don't need a helmet, the Nikkei news website notes.
Earlier this year, it was reported that tour operators were being urged to improve safety standards following a spate of accidents, but now the authorities feel that only new regulations will suffice.
The transport ministry says that operators should safeguard go-karts by adding headrests, direction indicators, rear-view mirrors, and a red light at least one metre from the ground, in order to make karts more visible to other road users.
Go-karts should also be fitted with mudguards to prevent costumes from getting caught in the wheels, Asahi TV adds.
According to Sankei Shimbun, the street-legal carts have 50cc engines and are capable of reaching speeds of up to 60 kmh (37 mph).
Although there are less than 1,000 go-karts on the roads in Tokyo, they are mostly owned by hire companies who rent them to foreign tourists.
Drivers pay up to 8,000 yen ($71; £53) for a two-hour tour on Tokyo's streets, and need a valid driver's licence to get behind the wheel.
However, local media highlight that many tourists may not be up to speed on Japanese driving rules, and for some, it's their first experience of driving on the left side of the road.
Reporting by Alistair Coleman