N Korea marks the birth of Kim Jong-un's grandmother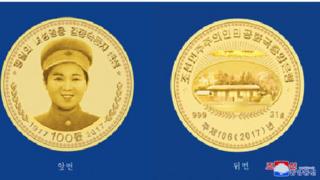 The birth centenary of "war heroine" Kim Jong-suk is currently being celebrated in a big way there.
Kim is no ordinary woman though, but the first wife of North Korea's founding leader Kim Il-sung and the grandmother of current leader Kim Jong-un.
She is believed to have been born to a poor farming family on Christmas Eve in 1917, and is said to have fought with guerrilla forces against the Japanese in the 1930s.
She died in 1949, aged just 31, and official accounts ascribe her death to the hardships she endured as a guerrilla fighter.
'Marvellous marksmanship'
To mark her birth centenary, North Korean media have been describing her wartime exploits in typically hyperbolic language.
Kim is not just an "outstanding woman revolutionary" and "the sacred mother of the revolution", "her marksmanship was so marvellous that even her comrades-in-arms used to guess the number of killed enemies by counting empty bullet pockets of her cartridge belt after battles," says a report in the state-run KCNA news agency.
North Korea says it has released new postage stamps, minted new gold and silver coins, and held cultural performances in her honour.
One report says "more than 300,000 servicepersons, working people from all walks of life, youth and students, overseas Koreans and foreigners" visited her birthplace this year.
Putting on heirs
However, the warm veneration of Kim Jong-suk is not reflective of how the average woman is treated in North Korea.
While women are gaining an increasing role as traders and breadwinners, and the country's Communist ideology espouses equality between the sexes, the proportion of women occupying top leadership roles in state organisations is small.
Kim Yo-jong, the sister of the current leader, is the only female member of the ruling party's Politburo.
In North Korea's highly patriarchal society, a woman's key role is still to raise a family.
Tellingly, the media note that Jong-suk's "greatest exploit" is that "she brought up leader Kim Jong-il as the rising sun and thus gave the people the highest honour and happiness of being blessed with the illustrious leaders generation after generation".
Taking up arms is still a harsh ordeal though. In 2015, the government reportedly made military service compulsory for women from 17 until the age of 23. One former soldier has described conditions for women there as appalling.
See also: Rape and no periods in North Korea's army
Reporting by Pratik Jakhar
Next story: China urges against 'dangerous' light bulb challenge
Use #NewsfromElsewhere to stay up-to-date with our reports via Twitter.