Short showers for India's cricket team in South Africa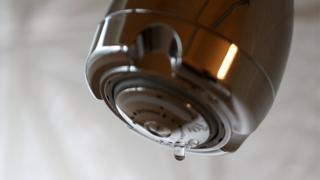 India's national cricket team has been asked not to shower for more than two minutes as they face South Africa in Cape Town, where there is an acute water shortage.
Tough new restrictions on water use came into force in the city on 1 January, just as the cricketers arrived for a Test match which began today, the Indian Express reports.
With local temperatures set to reach 27C in the shade on Friday, the official request is one of several water conservation messages that the Indian cricketers came across "on reaching their hotel after a sweaty and tiring day under the relentless sun", the paper says.
Indian Express notes that many in the touring team hail from areas of India with water shortage problems of their own, so they understand the need for the request "but they're not quite timing their baths just yet".
Shortage sparks zero day fears
Cape Town residents now face a monthly water limit of 10,500 litres per household - or 87 litres of water per person per day - under the crisis restrictions which came into force this week.
Water supplies to the city have become so scarce that the city's mayor, Patricia de Lille, is speaking of a "Day Zero" when taps run dry, forecast to be around April or May at the current rate of consumption.
A three-year drought means that dams are less than a third full. Day Zero will be when reserves hit 14 per cent, Radio France Internationale says. This will force the population to use 200 collection points across the city.
While most people are observing the new restrictions, the city authorities say there are still some 200,000 households using more than the 10,500-litre limit, Eye Witness News reports. They could face a 10,000-rand fine ($800; £600) if they continue to break the rules.
Mrs de Lille, currently under pressure over claims of maladministration, has indicated that the limit could be tightened even further if refuseniks don't cut their excessive use.
'One silver lining'
Despite the hardships facing South Africans, the Indian Express managed to salvage some good news from the situation.
"There is one silver lining for the Indian cricketers," it said. "Sinking underground water level means less moisture and a dry track [pitch], conditions Indians are used to."
On the first morning of the Test, conditions appeared to favour them, with South Africa's batsmen reduced to 12-3 within the first five overs, before a fourth wicket stand rescued the hosts.
Reporting by Pratik Jakhar, Alistair Coleman
Next story: Job losses as Fiji bans live coral exports
Use #NewsfromElsewhere to stay up-to-date with our reports via Twitter.