American Samoa gets 'prettier' landfill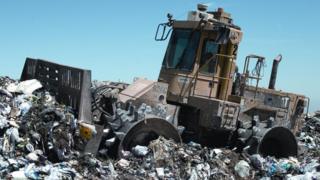 America Samoa has temporarily solved its increasingly urgent rubbish problem by getting a "prettier" landfill site, it's reported.
The Pacific Island territory was warned that its single landfill on the main island of Tutuila only has two years left before it reached its limit. But the American Samoa Power Authority (ASPA) has found a way to increase its life by another 15 years, Radio New Zealand says.
Unable to find another site that wouldn't have caused annoyance to the island's 56,000 residents, ASPA has instead started to recompact the rubbish at the site in the Futiga village, eliminating air pockets and packing down the waste.
The Authority's Paul Young told Radio NZ that it has saved the territory a lot of money, reduced fire risks and eliminated much of the smell associated with rubbish dumps.
"You go up to the landfill and you see that its much prettier, as landfills go, and it doesn't smell as bad as it used to," he said.
Waste plastic concerns
Waste plastic is a major issue in the Pacific, where debris is having a devastating effect on local ecosystems.
Beaches on the Henderson Island in the Pitcairns, over 5,000km (3,100 miles) from the nearest human settlement, reportedly have the largest density of plastic waste recorded, with thousands of new items washed up every day.
American Samoa has been long aware of its need to cut down landfill waste. In 2014, the ASPA signed a deal that would convert 62 tonnes of waste per day into diesel fuel.
This cut the amount of waste going to Futiga by 90%, with the potential to generate 15m kw/hours of electricity per year, Radio NZ reported at the time.
Meanwhile, neighbouring Western Samoa has urged its citizens to cut down on single-use plastics and to refrain from burning rubbish, the Samoa Observer reports.
Instead, residents have been urged to return to traditional practices of making baskets and utilising natural resources to use as utensils over the modern convenience of plastics bags, bottles and containers.
"We can weave baskets in five minutes and you have a ready-made bag. You don't need to burn it; you just throw it into the compost heap," environmental expert Frank Griffin told the paper .
Reporting by Alistair Coleman
Next story: North Koreans play 'Yankee' shoot-em-up game
Use #NewsfromElsewhere to stay up-to-date with our reports via Twitter.