Uzbek nurses and firefighters told to get on their bikes
By News from Elsewhere...
...as found by BBC Monitoring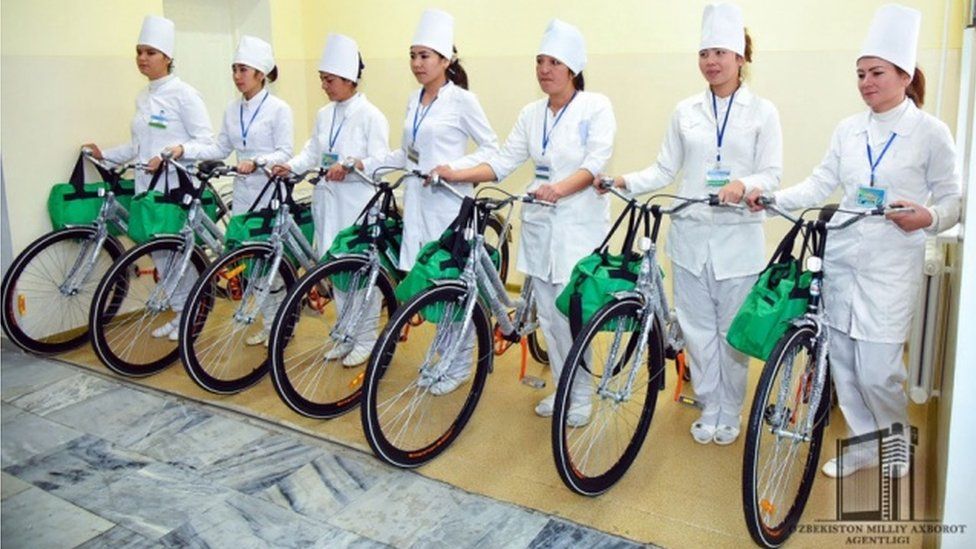 Nurses and firefighters in Uzbekistan are being issued with bicycles to provide "more efficient" services, it's reported.
A health authority in the Tashkent region has established a service called Vellopatronaj, which it says will enable community nurses to provide "high-quality and fast" medical services in local villages.
The Uzbek National News Agency says the service involves 22 bicycles being given to community nurses to "increase the productivity of their work and make their work easier".
While there may be some cost efficiency benefits behind the move, the agency says the main motivation is "promoting healthy ways of living in the community".
Meanwhile, in western Uzbekistan, firefighters at the giant Uz-Kor chemical plant in Kyrkkyz have come up with a bike to patrol the 105 hectare (260 acre) complex.
The government-run Khalq Sozi news website shows a bike weighed down with two fire extinguishers, a loudspeaker, a coil of rope and other equipment including a first aid kit.
Its inventor, Lieutenant Sultanbek Tangirberganov, says that firefighting is an area that is ripe for innovation, and he notes the two-wheeler helps people get around the industrial complex quickly.
Lt Tangirberganov's colleagues still have conventional fire trucks in case of major emergencies, but the bike replaces foot patrols, Postda news portal says.
Uzbek social media users aren't hugely impressed with either of the bike schemes, particularly the one targeting healthcare workers.
"Poor nurses," one Facebook user says. "Suppose they cycle to a patient's place [with their supplies], what next? What are they going to do with the bicycle? Will they carry it to the fourth or ninth floor?"
Another user notes that "Local government officials have been given Nexia cars and neighbourhood police officers Matiz cars, while the medical workers are getting bicycles!"
"The teachers are going to be given a pair of cheap rubber shoes so they can walk more," he quips.
Chevrolet Nexia and Matiz cars are built in General Motors' GM Uzbekistan plant in the country's far east.
GM cars bearing the Chevrolet and Ravon badges are a common sight on Uzbekistan's roads, and drivers given the chance to buy one in 2013 were filmed stampeding through the gates of a sales centre in Tashkent.
Reporting by Alistair Coleman
Use #NewsfromElsewhere to stay up-to-date with our reports via Twitter.