Beijing trials pay-per-ride scheme for lift passengers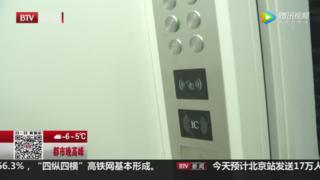 A scheme is being trialled in China's capital city Beijing that asks people to pay in order to ride elevators, it's reported.
According to the Beijing Daily newspaper, at least eleven lifts are being installed in old residential buildings that previously only had stairs in the city's southern Daxing district.
Beijing Daily says that the new lifts work "like passengers scanning a card on a public bus" in that they charge users to ride them when they wave a swipe-card across a sensor.
The Fangrong Shengtai Construction Company says that the scheme means that new amenities can be installed in older buildings without them needing to directly charge for construction and maintenance fees.
Passengers are charged 0.2 yuan (3 US cents; 2 British pence) each time they ride - a small amount of money by local standards. However, liberal local daily Beijing News says that the scheme could set back households a monthly fee of approximately 100 yuan ($15; £11).
Many apartment complexes built before 2006 across China do not come equipped with elevators. Broadcaster BTV says some 2,264 multi-storey buildings in the Daxing District alone were built without a lift.
Some residents have applauded the move. One 60-year-old resident, Yang Guixiang, tells Beijing News that the scheme means she no longer has to struggle up and down the stairs with heavy shopping.
"When my children are away from home, I am in a rut; now, this is much more convenient, and I only have to spend 2 mao." There are ten mao in one Chinese yuan.
Many on the popular Sina Weibo microblog have similarly applauded the move in providing better welfare to elderly residents, and say that the scheme may encourage residents to be more environmentally friendly and travel together.
But not everyone is as enthusiastic about the scheme. "Two mao is not a lot of money, but I'm sure I'll end up taking the stairs," one user says.
Reporting by Kerry Allen
Next story: Stink bugs threaten New Zealand car imports
Use #NewsfromElsewhere to stay up-to-date with our reports via Twitter.