Russian 'burning church' art engulfed in controversy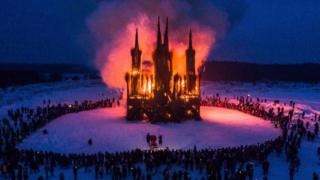 A community of Russian artists has attracted controversy by burning a model of what some say appears to be a Catholic church at an Orthodox Christian festival.
Setting fire to an effigy is a traditional part of Maslenitsa, or "Butter Week" - a six-day festival marking the last week before Orthodox Lent, although it also has pagan roots.
Nikola-Lenivets - an "art park" devoted to modern art and architecture near the western city of Kaluga - usually has its own take on the festival, and every year sets a different shape alight.
But not everyone was pleased by their decision to incinerate the "Flaming Gothic", a 30m-high structure of twigs and debris, roughly resembling a West European medieval cathedral.
In a widely-shared Instagram post, well-known TV presenter and comedian Maxim Galkin asked how people could justify burning something like that on an Orthodox holiday, especially as Russian law bans actions deemed "insulting to the feelings of believers". Russia has a small community of Catholics, amounting to no more than 0.5% of the population.
"Imagine the hoo-hah on our TV channels if someone burnt an object looking like an Orthodox church somewhere near Berlin or Paris," he added.
Artist Nikolai Polissky has denied that the object represented a church. He pointed out that Gothic architecture is used for secular as well as church architecture, and that this was "simply a bonfire built in the manner of a Gothic building".
But prominent liberal blogger Andrei Malgin was not convinced, saying that that burning a "Gothic - and thus Catholic - church" was not acceptable in a country where what the "Orthodox Taliban are victorious" - a reference to the more assertive stance of the Orthodox Church in Russian society.
"It is not the art object itself that is of value, but its interpretation," he insisted. The art project has also been criticised by Russia's Orthodox Church itself. Vakhtang Kipshidze, a spokesman for Moscow Patriarch Kirill, told Ria Novosti news agency that symbols of Christianity, "whether they belong to the Western or Eastern branch, should be accorded respect and sanctity".
Several people have since accused the project's critics of misunderstanding it.
Dmitry Vrubel - a Berlin-based Russian artist - accused "anti-Putinists" of joining forces with Kremlin "propagandists" in a "symphony of hate against modern art, based on greyness, ignorance, and a lack of curiosity".
Leading cartoonist Sergey Elkin has his own wry view of the row, drawing President Vladimir Putin - who reportedly has a cold - being told by a spin doctor that people are worried about his current unusually low media profile.
The bed-ridden president replies: "Well, organise some distracting performance - burn something Gothic!"
Reporting by Adam Robinson
Next story: Stink bugs threaten New Zealand car imports
Use #NewsfromElsewhere to stay up-to-date with our reports via Twitter.