Georgian boy runs away to the zoo, finds it closed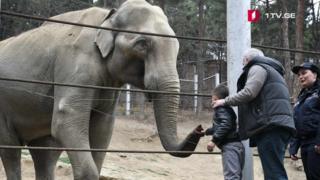 A zoo in the Georgian capital Tbilisi has given a lucky 10-year-old boy a free year-long pass, after he sneaked out of his house and travelled some 130km (80 miles) on a train on his own to see the animals.
Dato Nozadze's escapade ended disappointingly, Georgian media reports. On arriving in Tbilisi, he found the zoo had closed for the day.
A police patrol later noticed him wandering alone on a street, contacted his parents, and returned him to his home in the central Georgian town of Khashuri.
The Tbilisi Zoological Park decided, however, to honour his "special love of animals".
The following day, the same police officers returned to Dato's house to bring him back to the zoo to see the animals and receive his pass, the Netgazeti website reported.
Dato was given a personal tour of the zoo by its director Zura Gurielidze, and got to feed the lemurs, elephants, camels and alpacas, Liberali magazine website said.
Many on Georgian social media found the story touching. "A real adventure for the little boy. He is a little dreamer and seeker," said one user on Facebook.
Reporting by David Lobzhanidze
Next story: Russian TV airs video game as Syria war footage
Use #NewsfromElsewhere to stay up-to-date with our reports via Twitter.