Russian TV airs video game as Syria war footage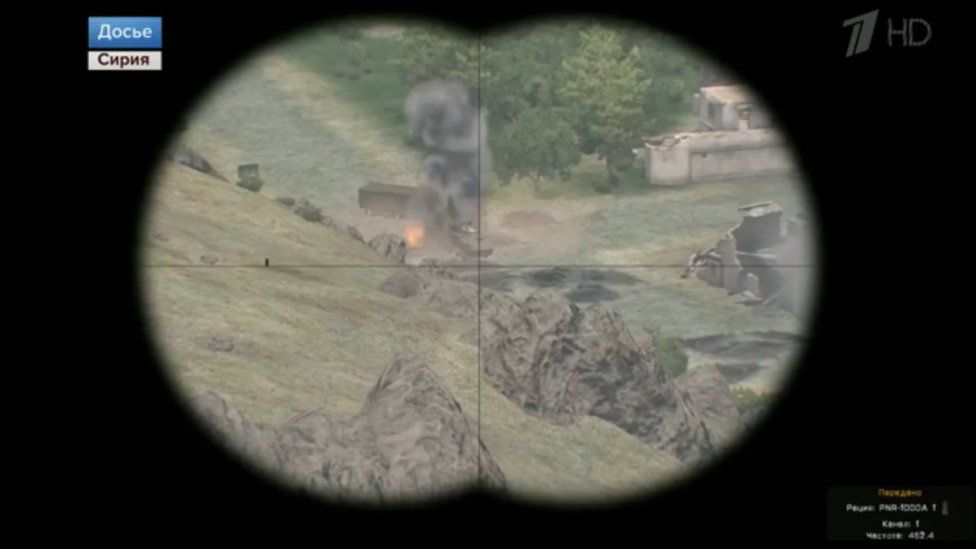 A tribute to Russia's armed forces on the country's flagship news programme mistakenly used footage from a computer game to illustrate military action in Syria.
Eagle-eyed viewers of the weekly Voskresnoye Vremya programme on state-run Channel One TV noticed that gun-sight footage of a truck being attacked was actually from the Arma-3 tactical computer game.
Sunday's report was a celebration of those who serve in Russia's armed forces, to commemorate last week's Defender of the Fatherland Day, praising "those who value duty and honour above their own lives".
Among those it honoured was Roman Filippov, the pilot of a Su-25 ground attack aircraft who was killed in action in Syria at the beginning of February.
It was during this fast-moving sequence showing Su-25 "Frogfoot" jets in action, that the game footage appeared and was quickly spotted by users of the social network Pikabu.
Deliberate or accidental?
Pikabu is Russia's equivalent of Reddit, and a debate started as to whether the inserted footage was deliberate or accidental.
Some users suggested that the Arma-3 footage was a hidden sign added by a put-upon Channel One video editor, with one person speculating that they were "forced to do this and are begging for help".
Another asked if it was an "Easter egg" deliberately left for game-savvy viewers to spot, but went on to say it would be a "sacrilege" to do so during a report on such a sensitive subject.
One TJournal blogger thought that whatever the reason, it was a sign of lowering standards at Channel One. "The programme is aimed at the viewers of an older age, 40-50 years. They most surely don't play Arma and would not notice the difference," Nikolai Chumakov wrote.
It later transpired that the footage was inserted in error, with Channel One saying that "the use of this frame was a mistake by the video editing director, who took it from the archive."
Talk radio station Govorit Moskva quoted Channel One's press office as saying that the clip found its way into the video archive from a previous story on computer games.
However, this is not the first time that Russian media have included video game footage to depict a real-life occurrence in a news report.
In November 2017, the Russian Defence Ministry released what it called "irrefutable proof" that the United States was aiding so-called Islamic State, only for online users to point out that their images were from the smartphone game AC-130 Gunship Simulator: Special Ops Squadron.
Arma-3 was released in 2013 and is described by its developers Bohemia Interactive as "true combat gameplay in a massive military sandbox". The developers claim the game currently has over 500,000 players worldwide.
Set in the year 2030, it simulates a war between NATO forces fighting against both fictional and real "Eastern armies", a scenario which saw it reportedly banned in Iran.
Reporting by Maria Kiseleva, Alistair Coleman
Use #NewsfromElsewhere to stay up-to-date with our reports via Twitter.