China warns parents after boy filmed peeing in lift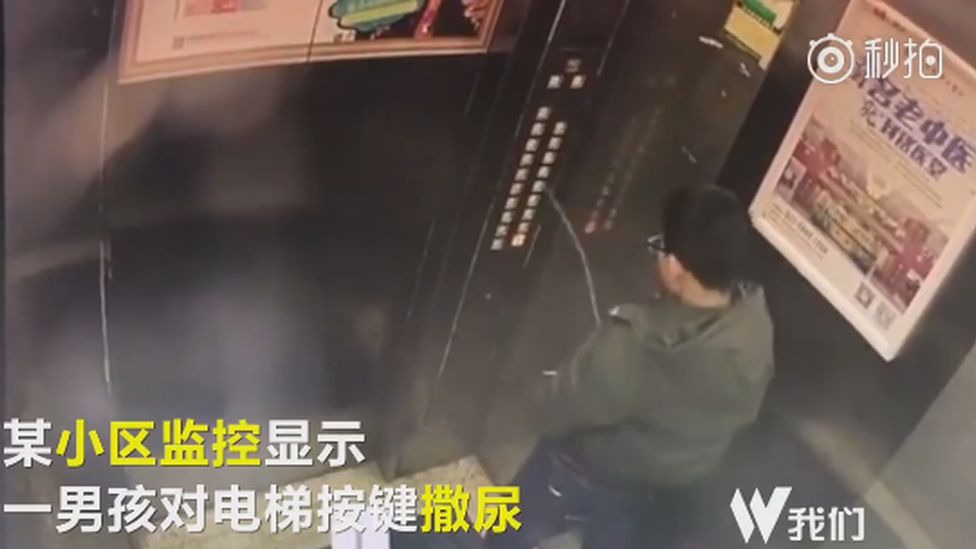 Chinese state media are using a video of a child urinating in a lift to reinforce better parental controls.
The Ministry of Public Security has shared footage on the popular Sina Weibo microblog from 23 February of an elevator in a building in southwest Chongqing.
"Please educate, and take good care of your children!" it says.
The footage shows a boy urinating over the buttons that take passengers to different floors. His actions caused the lift to short circuit, and then he appears visibly distressed as the lights go on and off, and the doors open and close.
Official newspaper People's Daily says that the unnamed boy was subsequently rescued.
Footage shared via the influential Beijing News has been viewed over 12 million times.
However, Beijing News says that the boy's father disputes the video's authenticity. "He [the father] says that his son cannot yet urinate that high, he doesn't believe it, and his son won't admit it, says he didn't do it," a reporter tells the paper.
Over 20,000 Sina Weibo users have commented on the video. Many comments support official media sentiment that "bear children", as unruly kids are known in the country, should be given better discipline at home.
"His family education is shameful," says one user, and another adds: "His guardian should pay compensation for the elevator breaking," receiving over 11,000 likes.
But some encourage users to see the funny side. "Don't take this too seriously, he's just a kid," says one user. Others say that it is "admirable" that he is able to urinate "so high".
Use #NewsfromElsewhere to stay up-to-date with our reports via Twitter.