Russian police accused of 'Putin graffiti campaign'
By News from Elsewhere...
...as found by BBC Monitoring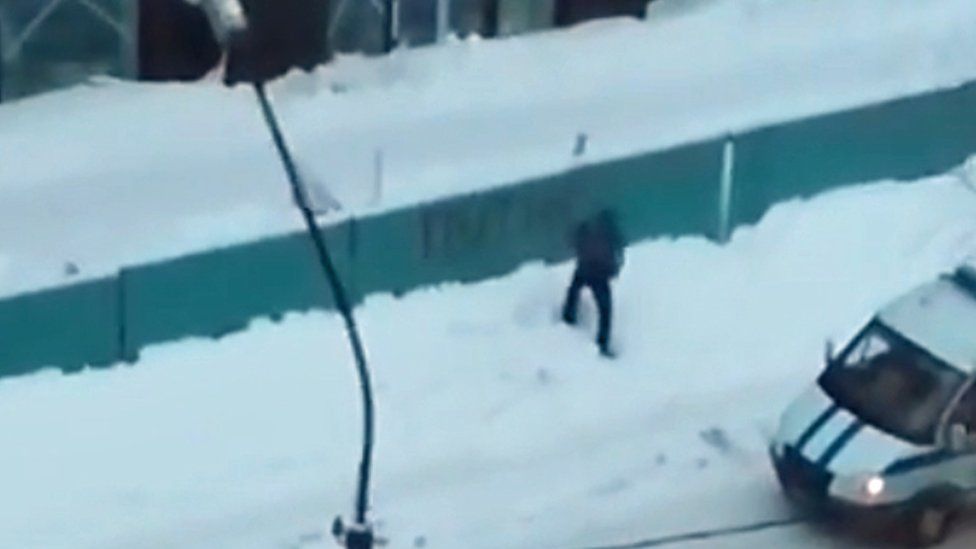 Police in a Russian city have been accused of writing the word "Putin" on walls and fences as part of a graffiti campaign, after a video claimed to show an officer being caught in the act.
Local newspaper Pro Gorod in the northern city of Syktyvkar says that a video of the incident, shot from a window overlooking a building site fence on the city's Karl Marx Street, has been viewed 147,000 times in the three days since it was uploaded.
It shows an unidentified man apparently painting the Russian president's name on the fence, before returning to an official police vehicle. Local police officials later said the man was merely inspecting the graffito, Ekho Moskvy, a radio station owned by Russian gas giant Gazprom, reported.
As he was not in uniform, it's hard to tell if he was actually a police officer, Pro Gorod says.
In a twist to the story, the paper later returned to the scene of the incident to find that the fence had been demolished and taken away in a truck.
Ekho Moskvy says that the Karl Marx Street graffito was not the only pro-Putin scrawl to have appeared in the city.
"Eyewitnesses claim that similar inscriptions appeared throughout the city, and they are being painted by police officers to create the appearance of broad support for the president," the radio says.
Russia goes to the polls on 18 March to elect a new president, with incumbent Vladimir Putin widely tipped to win.
Earlier in February, Pro Gorod shared photos of a large election billboard of Mr Putin's face being washed in the centre of Syktyvkar, speculating that it had been pelted with eggs.
"At least somebody has eggs," one person on social media quipped.
Reporting by Maria Kornienko, Alistair Coleman
Use #NewsfromElsewhere to stay up-to-date with our reports via Twitter.