New Zealand census campaigner takes to his Tardis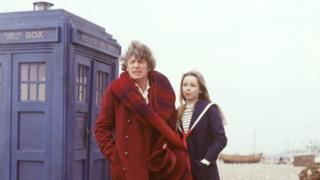 An anti-census campaigner in New Zealand was hoping to avoid Wednesday's compulsory national count by hiding in a Tardis, it's reported.
The self-styled Laird McGillicuddy, otherwise known as Graeme Cairns, said he was using the Doctor Who time-travelling space craft to boycott the five-yearly census by "travelling in time", the New Zealand Herald reports.
Mr Cairns, who was once the leader of the satirical McGillicuddy Serious Party, has a history of unusual stunts to protest against the census, which is compulsory for all New Zealanders.
He once claimed not to be in New Zealand by hovering above the city of Hamilton in a hot-air balloon, and on another occasion declared himself "temporarily dead".
He risks a fine of up to NZ$500 (US$362; £261) for refusing to fill out the form, the Stuff.co.nz website says. Five years ago, there were around 100 prosecutions for census avoidance.
Census concerns
While most of New Zealand's approximate 4.7m population were taking part in the census, there were some concerns that the results may be skewed due to accessibility problems.
The census was conducted primarily online, but Stuff.co.nz said some people who requested paper versions of the form had not received them; while some blind New Zealanders said they had experienced real difficulties completing the forms.
The opposition New Zealand National Party said a lack of disabled access to the forms meant that "it's likely the results will be skewed, because so many people from this sector of society won't be represented".
It's a concern echoed among the country's indigenous population, with Maori Television saying that "Kaumatua (Maori elders), the disabled and youth seem to be particularly at risk of being left out" because they're not online, or have not received the access codes required to access the forms.
With the census being a tool to help the government make decisions about future funding, there are fears that groups most in need of government assistance may not be counted accurately.
Reporting by Alistair Coleman
Next story: Why are vultures avoiding Portugal?
Use #NewsfromElsewhere to stay up-to-date with our reports via Twitter.