Uzbek transport police banned from hiding behind trees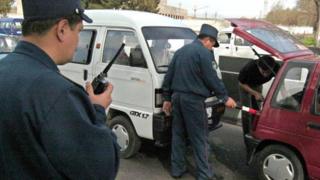 Police in the Uzbek capital are now banned from hiding behind trees "and other objects" while carrying out transport checks, it's reported.
The Tashkent police department issued the decree on 12 March, as part of a string of ongoing transport reforms in the country.
Uzbek citizens can now report complaints on the government website about such offences. If proven, a police officer could be demoted, fired, or lose their pension.
Transport officers are also set to be issued with new uniforms, following criticisms within the country that the blue-green uniforms make them appear invisible, the Vesti.Uz news website reports.
As an additional measure, they will be issued with hand-held video cameras to "help in the [country's] anti-corruption drive and fight bribe-taking on the roads".
Local media are embracing the reforms, saying that officials' hiding behind buildings or trees has become a problem in the country.
There have been many reports of complaints in recent years from drivers alleging that this method of catching people breaking traffic rules amounts to entrapment.
Fergana News says that there have been cases where officers have suddenly rushed out onto the road from their places of concealment, thereby "creating dangerous situations".
Next story: North Korea to launch new TV soap operas
Use #NewsfromElsewhere to stay up-to-date with our reports via Twitter.