Foxes frustrate Belgian broadcasters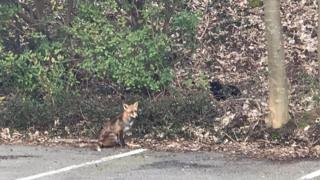 Plans to rebuild the studios of Belgium's national broadcasters could run into problems due to scores of foxes living on the site.
Flemish-language VRT says that experts have counted no fewer than 58 dens in the grounds of the broadcast centre it shares with RTBF, which serves the country's French speakers.
The broadcasters want to replace their brutalist concrete 1970s studio complex in the Brussels suburb of Schaarbeek; and while the fox dens in their extensive wooded grounds are common knowledge, it's come as some surprise that there are so many.
It's inevitable that the planned building works will result in the destruction of at least some of these dens, with one particular area already earmarked for a temporary car park, VRT says. Before that can happen, contractors will have to seek permission from the Brussels regional government, it's reported.
The four-year building project will see new studios and flats built on the land. Meanwhile, the rest of the grounds, which are currently closed to the public, will be turned into a park.
Despite this upheaval, the broadcasters say that they'll do their best not to drive the foxes away, nor the other fauna on their site which includes rodents, squirrels and birds.
As well as their usual diet of insects and worms, one fox was recently seen tucking into a pizza from the studio complex bins.
Reporting by Alistair Coleman
Next story: Uzbek police told to stop hiding behind trees
Use #NewsfromElsewhere to stay up-to-date with our reports via Twitter.