Tajikistan ministry's book tells women how to dress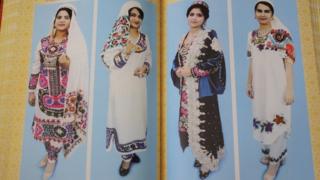 A book published by the government in Tajikistan is telling women what they should - and should not - be wearing.
The "Book of Recommendations" is published by the Ministry of Culture, and is filled with photos of models wearing outfits suitable for "women from seven to seventy", the Asia-Plus news website reports.
It has chapters advising women what to wear at work, on national and state holidays, for weddings, and even at weekends.
And later in the book there is a chapter on outfits that Tajik women should not wear. It advises against black dresses, headscarves and the hijab, as part of the country's campaign against Islamic dress, which still enjoys some popularity despite President Emomali Rahmon's condemnation.
Also out are overtly western clothes and miniskirts, while outfits that show cleavage and backless dresses are also discouraged.
"It is also not recommended to appear in public places in flip-flops or slippers, or to wear skin-tight trousers or synthetic clothes which are harmful for health," the website said.
The former Soviet republic has a predominantly Muslim population, but the government is trying to assert a more secular but traditional culture.
'Very nice, if you can afford it'
Social media reaction to the new book hasn't been particularly positive. While one user commenting on the original story praised it as "beautiful", they bemoaned the high prices of the national dress it showed. "Let Culture Ministry officials buy the clothes for us," they said.
Another accused officials of turning the country into North Korea. "The Ministry of Culture should tackle other issues and not invent all kinds of gibberish."
While a third reader noted the prohibition against "Skin-tight clothes that accentuate some parts of their body", asking "Which part of the body? Does it include the lump in their brains?"
Reporting by Halik Daniyarov, Alistair Coleman
Next story: Global implications for New Zealand 'Million Dollar Mouse' success
Use #NewsfromElsewhere to stay up-to-date with our reports via Twitter.