Sperm race funds rare New Zealand bird's survival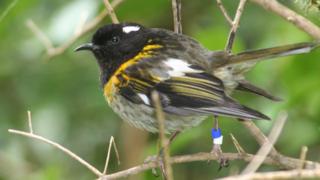 Conservationists in New Zealand have come up with a novel way of raising money for one of the country's lesser-known endangered bird species - by holding a race to see which male stitchbird, or hihi, has the fastest sperm.
The Great Hihi Sperm Race will pit samples from birds collected from four different hihi colonies, and donors can place a ten NZ dollar (US$7.30; £5.15) bet on which of the 128 samples swims the fastest, New Zealand Herald reports.
Correct guesses win prizes donated by sponsors, and monies raised will help fund conservation work supporting remaining hihi colonies.
It's the idea of Dr Helen Taylor and her colleagues at the University of Otago, who study inbreeding in small populations of bird species through the medium of sperm quality.
Endangered species such as the hihi experience lower genetic diversity and risk infertility altogether, she told Newstalk ZB radio.
"The numbers are reasonably low and we know that they've have these drastic reductions in population size which can lead to issues with their genetics, and can increase problems like inbreeding," she said.
Weird idea
Confessing that the sperm race is a "weird idea", she nonetheless thinks it ideal to raise awareness of the hihi, which relies on human intervention to help it thrive in unfamiliar habitats, including nest boxes and supplementary feeding.
If the appeal's form guide for the birds ("His head feathers resemble Trump's comb over, but don't let that put you off") is anything to go by, the organisers are playing this race for laughs, but, as Dr Taylor says, it's to raise much-need money for a species that is overlooked for funding.
"One minute you're planning out how you're going to secure a permanent position and a Prime Minister's Science Prize, the next you're encouraging people to bet on bird sperm races," she says.
Reporting by Alistair Coleman
Next story: Tajik ministry's book tells women how to dress
Use #NewsfromElsewhere to stay up-to-date with our reports via Twitter.