Uzbeks told to tend their gardens or face triple tax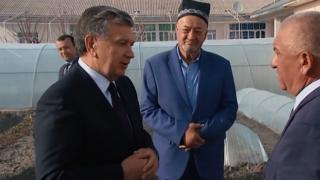 The government of Uzbekistan has warned citizens to use their kitchen gardens "efficiently" or face a triple land tax, it's been reported.
According to the Daryo.uz news website, officials will monitor every household twice a year to "study the public's interest in farming, building a greenhouse, and keeping livestock or chickens".
If monitoring carried out by police chiefs, tax inspectors and local prosecutors find that a household has failed to "use the land efficiently" by not growing crops or keeping farm animals, land tax will be tripled, the report says.
The new regime comes after President Shavkat Mirziyoyev expressed his dismay that citizens were buying staples such as potatoes and milk rather than producing their own.
"I am sorry to say this, but people have stopped doing hard work," he said last week in remarks published by kun.uz website. "Uzbek people should work in their gardens".
The president's chicken shed
The Uzbek president, who was elected to the post in December 2016 following the death of his predecessor Islam Karimov, appears to be no stranger to working his own plot.
He owns 110 chickens, and sends the eggs to his home village in exchange for meat and yoghurt, opposition website Eltuz.com reports.
The leader says that every weekend, together with his children, he cleans the chicken shed. "Even if you are a president, it does not mean that you are different. You have to work every day!" he said.
Reporting by Alistair Coleman
Next story: Sperm race funds rare New Zealand bird's survival
Use #NewsfromElsewhere to stay up-to-date with our reports via Twitter.