Belgian police loan bikes to victims of theft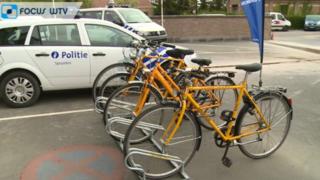 A police force in Belgium has introduced a bicycle loan scheme for people who have been victims of bike theft, it's been reported.
Officers in the coastal town of Veurne in Western Flanders are now offering a bicycle for a week for those who report a theft, Flemish news website Flanders News says.
The local force has a stock of ten bicycles of various shapes and sizes developed by local students, Focus WTV notes. There were 75 reported bicycle thefts in the area last year, but police concede the true number is much higher.
Veurne mayor Peter Roose says the biggest problem is the bike shed at the local railway station, a familiar problem to cyclists the world over. Mr Roose told Focus WTV that continuous thefts mean that the facility is set to be moved to an area covered by surveillance cameras.
According to Spoorkal Police Zone chief Devid Camerlynck, the bicycle loan scheme has been created to keep people on the move and minimise the disruption to their lives.
"When people report their bicycle is missing at the main police station, we will offer them a replacement bike for a week to allow them to cycle home, to school, or simply follow their hobby," he told VRT Radio 2.
Reporting by Alistair Coleman
Next story: Argentine anger over Heineken's Falklands beer label
Use #NewsfromElsewhere to stay up-to-date with our reports via Twitter.