Moscow archaeologists find oldest pickpocket coin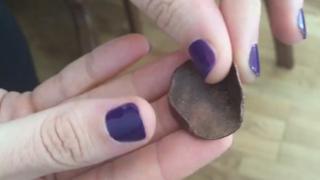 Archaeologists digging in an historic part of central Moscow have found all sorts of objects in recent months, but perhaps nothing as interesting as the oldest example of a pickpocket's coin to come to light in the city.
The two-kopeck coin dates back to the mid-18th century, but what makes it different is the way one edge was hammered flat and then filed down to a sharp blade. This allowed artful pickpockets to slice open bags and coats to get at the moneybags of unsuspecting passers-by, Russia's Vesti television news programme reports.
"Thieves' coins", as they were known in Russia, were an essential tool of the resourceful footpad. This one came to light during building work on the Soimonov Passage in the city centre, and archaeologists say the type of two-kopeck piece was only minted in 1757-1761, towards the end of the reign of Empress Elizabeth, a daughter of Peter the Great.
Alexei Yemelyanov, the head of the city's Cultural Heritage Department, told the Mayor's official website that the coin could also be used as a shiv to slash a victim's hand or face if they realised they were being robbed.
The work on the Soimonov Passage is part of the "My Street" project to restore the city centre. It has been under way for several years, and has turned up a variety of finds, some of them decidedly picaresque.
These range from a 17th-Century stamp that forgers used to make counterfeit coins - dug up on Tverskaya Street near Red Square - to the remains of long-lost thieves' dens, including the notorious 18th-century Skachek inn under Manege Square.
Mr Yemelyanov is sure that "even such an apparently unattractive aspect of Muscovites' past lives can yield secrets for their descendants today, many of which remain to be solved".
Reporting by Martin Morgan
Next story: Ancient city comes up for sale in Turkey
Use #NewsfromElsewhere to stay up-to-date with our reports via Twitter.