Turkmen president drifts into pole position at rally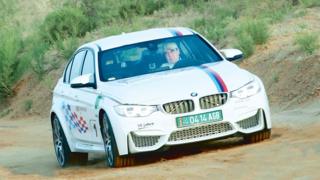 Turkmen president Gurbanguly Berdimuhamedov has won an international motor race qualifier seemingly by chance, after turning up at the venue to meet one of his ministers, it's been reported.
According to the Fergana news website, the president entered the qualifier for the Hamul-Azar International Rally on the spur of the moment, after finding out that the BMW sports car he was driving passed the entry requirements for the race.
He was supposedly at the venue in the Karakum desert to hear a briefing from his interior minister on preparations for the rally, when he reportedly asked the referee for permission to take part in the day's racing.
The referee "immediately" gave his permission, saying that it was "a great honour for him and for sportsmen", Fergana News reported.
'Master of Sports' and the cult of personality
State-run news agency Turkmenistanyn Dowlet Habalar goes on to say that Mr Berdimuhamedov, who is also known to be a talented musician and DJ as well as a competitive cyclist and jockey, got behind the wheel and "easily and quickly overcome all obstacles along the route and showed real art in drifting".
With his son Serdar - who is also Turkmenistan's deputy foreign minister - as navigator, the president completed his lap of the course 12 seconds ahead of a professional driver.
The president was subsequently awarded with a "Master of Sports" certificate for his drive, as well as the winner's cup "for the skills in motorsport, experience and commitment", TDH news agency says.
He's also been invited to take part in the Hamul-Azar rally this year. In return, he's donated his racing helmet to a local museum.
Moscow-based Fergana News points out that the president has a continuing habit of winning sports and cultural events.
Mr Berdimuhamedov has led Turkmenistan since 2007. Like his predecessor Saparmyrat Niyazov, he has ruled autocratically and built up a personality cult.
Despite the country's large gas reserves, much its population is still impoverished. Amnesty International accuses Turkmenistan of human rights violations and restricting freedom of speech.
Reporting by Alistair Coleman
Next story: Estonian troops turn moose-sitters on military exercise
Use #NewsfromElsewhere to stay up-to-date with our reports via Twitter.