Iceland's pagan Zuist religion hopes to build temple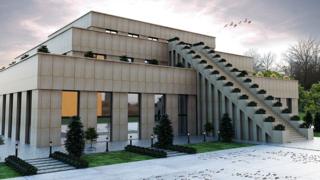 Members of a pagan Icelandic religious movement based on ancient Sumerian beliefs are set to get a temple in the capital of Reykjavik, it's been reported.
According to the Iceland Monitor news website, Zuists - people belonging to a modern pagan religious movement based on the Sumerian religion - have applied for permission to build a two-story "Ziggurat" as a centre for their growing congregation.
Zuism is a relatively new faith; it was registered as an official religion in Iceland in 2013, and over 2,800 people are members.
Zuist leader Águst Arnar Ágústsson told the paper that the group had always planned to have a place of worship for its followers, but given the movement's rapid expansion in Iceland, this had grown all the more urgent.
He says the movement needs space for name-giving, weddings and general worship, as well as "beer and prayer" meetings.
Iceland Monitor says that a surge of attraction in Zuism may be because members do not have to pay parish fees. Registered Zuists - also known as Zuistar - are being asked, instead of paying old-school parish fees, to contribute to a Ziggurat Fund to help build and maintain the planned temple.
Some may also have been drawn to ancient Sumerian beliefs through their worship of the 1984 film Ghostbusters, yet might be disappointed to find that Zuism recognises no Zuul, and no Gozer the Gozerian, and that civilisation is unlikely to be destroyed by a giant marshmallow man.
The movement claims its belief system is the oldest in the world, and is based around the Sumerian pantheon in that it recognises An, Enlil, Enki and other deities as worshipped in ancient Mesopotamia.
But despite is growing numbers, Zuism still has a long way to go before it challenges the established faiths for numbers.
According to Statistics Iceland, over 80% of Icelanders are registered as Christians, with around 230,000 identifying as members of the Lutheran Church of Iceland. Zuists account for some 1% of Iceland's population.
Reporting by Alistair Coleman
Next story: Ballet and football collide on Russian stage
Use #NewsfromElsewhere to stay up-to-date with our reports via Twitter.