Chinese city gets 'smartphone zombie' walkway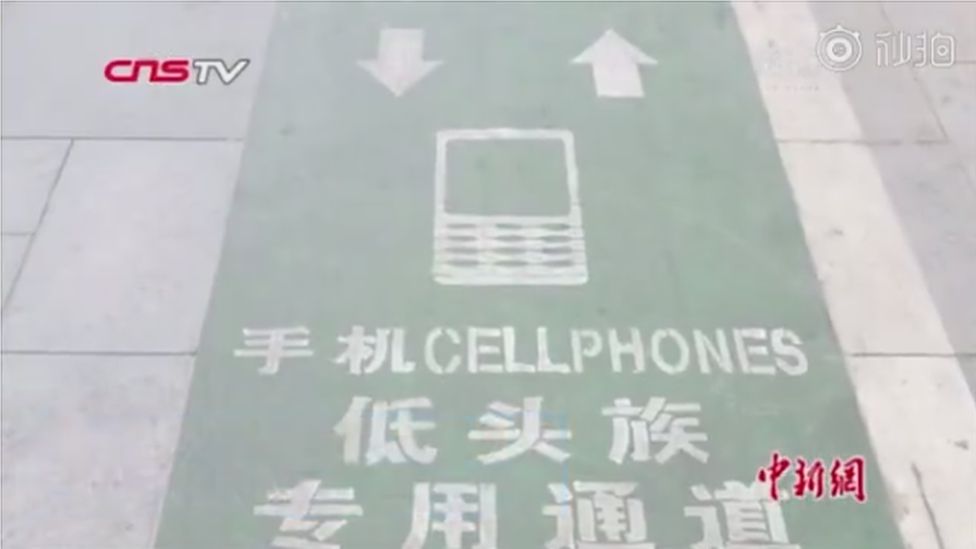 A city in northern China has introduced a special pedestrian lane on one of its roads, exclusively for slow-walking smartphone users, it's reported.
According to the Shaanxi Online News, the pavement along the Yanta Road in Xi'an has now got itself a special lane for "phubbers" - people who stare at their phones and ignore everything else around them.
The lane is painted red, green and blue, and is 80cm wide and 100m long. Pictures of smartphones along the route distinguish it from an ordinary pedestrian lane.
Shaanxi Online says that a large shopping mall, which looks onto the street, had been pushing to have the lane for a month.
It says that cars often come onto the pavement, which is a busy channel for pedestrians who might not be paying attention to their surroundings.
News website The Paper interviewed locals, who welcomed the introduction of the lane.
Wei Xiaowei said it was the first time he had seen such a thing and said he thought it was "pretty good".
"Everybody walking along here thinks that it's very safe; at the side of the road, there are cars, and the vehicles also come onto here, and sometimes only just avoid you."
Another local, Hu Shuya, says: "Young people's lives nowadays are fast, and they're always looking at their phones. This puts our minds at rest - those of us who are often looking at our phones - as it's a form of protection."
However, users of the popular Sina Weibo microblog view the lane largely with bemusement. One user says that young people's fascination with mobile phones nowadays "is as rife as smoking opium during the Qing Dynasty".
Another says that smartphone users have become like "blind people", and another user points out that phubbers using the lane may still risk bumping into each other.
Use #NewsfromElsewhere to stay up-to-date with our reports via Twitter.