Pole-dancing at Chinese nursery school shocks parents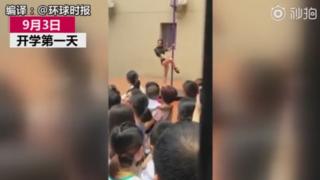 A Chinese nursery has come under fire for having a pole dancer perform at its welcome ceremony, it's reported.
According to the Southern Metropolis Daily newspaper, parents and children were invited to attend the opening ceremony of the Xinshahui Kindergarten in the southern city of Shenzhen on 3 September.
As part of the programme, families were invited to watch a number of female performers perform in skimpy clothing, including a pole dancer.
Footage of the pole dancer has widely circulated online, and thousands of users of the popular microblog Sina Weibo have commented on the school show.
"I really don't want to know what the headmaster was thinking," one Weibo user says. Another adds "This type of dancing is not suitable for a kindergarten."
And one says: "Nursery children should learn knowledge, but not too much knowledge!"
Fuming parents
But while online users ridiculed the ceremony, Southern Metropolis Daily says that many parents at the school are afraid that the experience will have lasting damage on their infants, and some had subsequently withdrawn their children from studying at the school.
You might also be interested in:
"For a kindergarten to host a pole dancer in its opening ceremony shows the taste and the emotional intelligence of the teachers," one parent posted on the mobile messenger WeChat.
Another parent, expat Michael Standaert, added: "Who thought this is a good idea? We're trying to pull the kids out of school and get our tuition [fee] back."
According to official broadcaster CCTV, the local Bao'an Education Bureau has since instructed the school to apologise, dismiss the school headmaster and carry out an investigation into the incident.
Reporting by Kerry Allen
Next story: Uzbekistan tax officials to wear family ID badges
Use #NewsfromElsewhere to stay up-to-date with our reports via Twitter.