Archaeologists unearth Roman road in Netherlands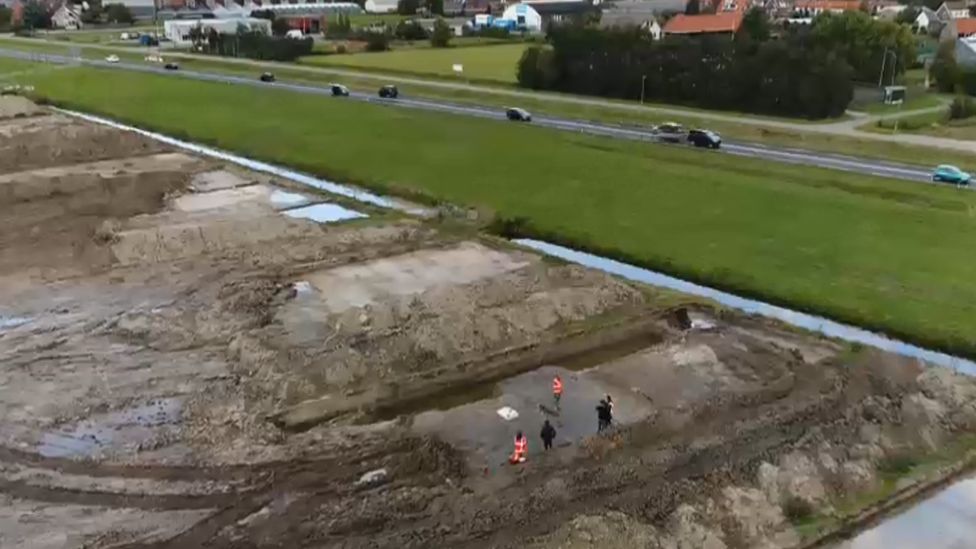 Archaeologists in the Netherlands have discovered a 2,000-year-old stretch of Roman road and the remains of a Roman village at the town of Katwijk, which once marked the northern boundary of the Roman Empire.
The road is 125 metres (410 ft) long and lies close to a busy highway in the Valkenburg suburb. The Roman village comes complete with a canal and burial ground, the Omroep West regional broadcaster reports.
South Holland Province asked archaeologists to examine the whole area where the new RijnlandRoute bypass is to run, aware of the local Roman legacy and anxious to preserve any finds.
The Emperor Claudius built the city of Lugdunum Batavorum at the mouth of the Old Rhine River, which still flows through Katwijk, and ships would sail from there for Britain. But no one expected to find such well-preserved remains in Katwijk itself.
"The extent to which the Roman road is complete is a great surprise", the province says on its official website.
Even the tall oak piles that stood alongside the road to stop it from subsiding are in remarkably good condition. Archaeologists reckon the road was built in about the year 125 CE, during the reign of the Emperor Hadrian.
The dig also uncovered pottery, leather footwear, coins, a fish trap and other household objects, but the rarest find is a piece of building material with fragments of plaster and paint still intact after two millennia.
The excavation will take another few weeks, and the archaeologists should complete their study of the site by end of the year. The public will be allowed to visit the dig on 13 October - Archaeology Day in the Netherlands.
Work on the new road is due to start in the second half of 2019 but will not disturb the site, the provincial authorities promise. The most important finds from the dig will go on display at the RijnlandRoute's information centre, and this may not be the end of the story.
You might also be interested in:
The excavations are part of the Lower German Limes - the old northern border of the Roman Empire - which the Netherlands has nominated for special UN international status, the Rheinische Post reported earlier in the year.
If the application is successful, the old boundary that runs from Bad Breisig in Germany to Katwijk - including the Roman road - will become a World Heritage Site. The UN's World Heritage Committee is to consider the bid in 2021.
Reporting by Martin Morgan
Use #NewsfromElsewhere to stay up-to-date with our reports via Twitter.