Russians choose 'heaven or just death'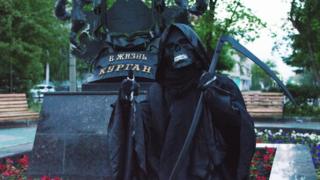 Death has taken to the streets of a Russian city to ask passers-by whether they want to "go to heaven as martyrs" or "simply drop dead", in response to a speech by President Vladimir Putin.
A group of social activists in Kurgan, Siberia, dressed one of their members in the black cloak and scythe of the Grim Reaper, with a placard around his neck posing President Putin's ultimate question and inviting shoppers to make their choice, the Znak news site reports.
Last week President Putin threatened any "aggressor" with nuclear war, warning that Russians would accept their inevitable death and "go to heaven as martyrs", while their enemies would "just drop dead, without even the time to repent".
This was the impetus for the activist group "Very Dead. News from the Hill" to get the people of Kurgan to write down their choice in a local Book of the Dead.
Most preferred to simply die, the group said, although Znak added that the results were muddied by some of the heaven-bound adding the names of relatives, former spouses and workmates to the "drop dead" list.
You may also be interested in:
Police accused of 'Putin graffiti campaign'
Russian in jail for giant duck protest
This is not the first time the Very Dead group has sent Death out onto the streets of Kurgan to raise awareness of local problems.
This summer the Grim Reaper visited a chain of off-licences, a large hole in the road and a beach, in order to bear silent witness to alcoholism, poor highway maintenance and swimming in dangerous waters.
He even posted a video of himself emerging from the pothole with a red balloon tied to his scythe, in a nod to the sewer-dwelling clown Pennywise from Steven King's novel 'It'.
Russia's independent media rushed to interview Death, whose campaign the online TV channel Dozhd sums up as "Once again the decision was made for us. Let Russians at least choose their own way to die".
The Reaper himself has a positive message for his neighbours. "Death isn't spiteful, and doesn't want extra work. So it's important that the people of Kurgan value life, despite everything that's going on around them," he told the local kurgan.ru news agency.
Reporting by Anastasia Ilina and Martin Morgan
Next story: Dutch 'silly walks' crossing is a hit
Use #NewsfromElsewhere to stay up-to-date with our reports via Twitter.