Russian grammar tsarina targets TV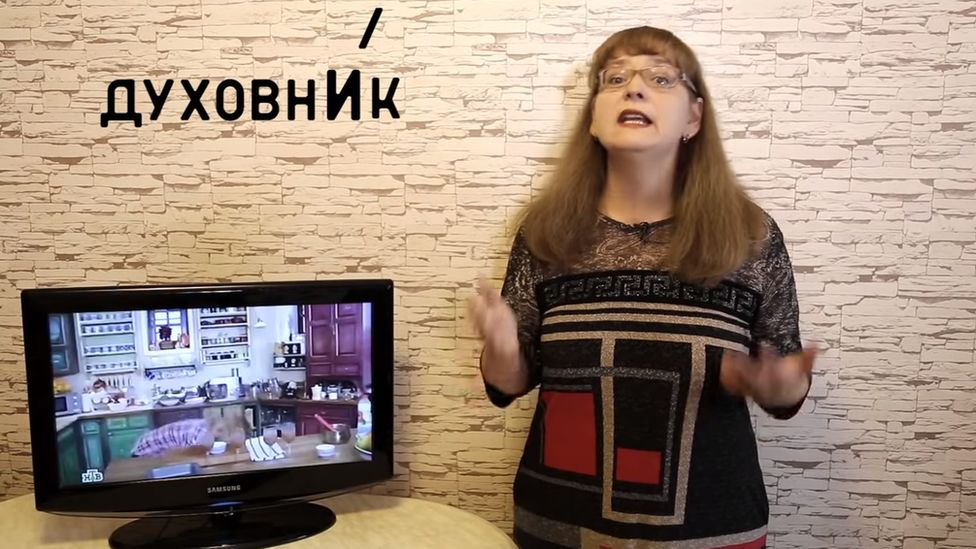 A Russian video blogger is racking up hundreds of thousands of views for her month-old YouTube channel that calls out TV stars for their grammar and pronunciation errors.
Tatiana Gartman says she set up "The Teach vs the TV" channel because she could no longer stand hearing presenters and reporters getting Russian wrong.
"When I turn on my TV and see presenters and correspondents making mistakes in Russian, it drives me mad!" she protested in the first of her weekly videos.
Her initial victim was the suave and popular late-night talk show host Ivan Urgant.
"Like any Russian woman over the age of 40, I cannot but love Ivan. But I still can't forgive anyone's poor Russian, not even his," she said. Amid furious finger-wagging, she branded Mr Urgant an "absolute disgrace", in a video that quickly went viral.
You may also be interested in:
More controversially she also vented her spleen at Vitaly Katchenko, a journalist with government-run Channel One TV.
She took him to task for mispronouncing a word in his report from the college in Crimea where 20 students were shot dead earlier this month.
'No right to make mistakes'
Tatiana was unrepentant when some viewers questioned whether her criticism was appropriate, given the circumstances.
"I offer my condolences to all who suffered in this terrible tragedy, but even this does not give Vitaly Katchenko the right to make mistakes," she railed.
Despite the title of her channel, Ms Gartman is no longer a school teacher. She works for a television studio in the city of Nizhny Novgorod, but also gives Russian-language lessons.
Not all viewers appreciate her approach, with one accusing her of using "disrespectful and uneducated teenage slang" - not least in the word 'teach' (uchilka) rather than the formal 'teacher' (uchitelnitsa) in the name of her YouTube channel.
Her "no prisoners" approach has won her more praise than opprobrium, and she says she receives frequent tip-offs about on-air solecisms from her loyal band of grammar-watchers - including in the case of Vitaly Katchenko.
Any victim who answers back does so at their peril.
Alexander Pryanikov of the "We are Scholars!" grammar quiz show gleefully noted that she had simply misheard a word he had allegedly mispronounced, only for Ms Gartman to apologise - and point out other genuine errors that he had made on air.
Tatiana remains optimistic that her campaign will get through to television producers, and ends her videos with the wish that "we won't see each other again, because these journalists will all suddenly start speaking perfect Russian."
But so far, her weekly denunciations just keep on coming.
Reporting by Francis Scarr and Martin Morgan
Use #NewsfromElsewhere to stay up-to-date with our reports via Twitter.