Siberian mayor's drive to sell off council cars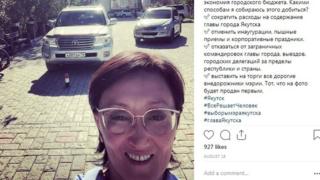 The new self-styled "people's mayor" of Yakutsk in Siberia is having a clear-out of the city's garage, promising to sell pricey foreign vehicles in order to fund social schemes.
Sardana Avksentyeva swept to victory in September, beating a member of President Vladimir Putin's United Russia Party to become the first woman to take charge of the city in the process.
Her election campaign centred on promises to avoid spending public funds on lavish parties, foreign trips or any other perks for her staff. Once in office, she turned her attention to the cars on the city's books.
"What you see in the photo will be sold first," Mayor Avksentyeva wrote in an Instagram post, showing a Toyota 4x4 and a Mercedes. An inventory showed that the mayor's office and other affiliated city services had a total of 13 cars, four of which were put up for sale in November.
The cars - three Toyota Land Cruisers and one Nissan Patrol - will be replaced with a single Russian-made UAZ Patriot, with the spare cash going into the city's budget.
You may also be interested in:
Police dance delights Russian viewers
Russian minister awards land as prize
Sculptor creates giant manure cockerel
"Part of the proceeds will go towards repaying debts of the municipal institutions on whose books they were," the administration's property department told Interfax news agency.
"This way we will save money from the Yakutsk budget. The other part will go into the city's budget and will be earmarked for setting up a social taxi scheme," the department added.
Social taxi schemes in Russia are used to transport disabled people, or large families on low-income.
'Loud statements'
The new mayor's social drive includes a handful of other similar public moves. She pushed for the cancellation of a city-funded ballet recital in order to divert money towards children's arts programmes.
She also cancelled a deal with a roadworks contractor, after a YouTube video showed workers neglecting to clear snow from a road under repair and simply pouring hot asphalt on top.
But not everyone's convinced by Mayor Avksentyeva. The Russian radio station BFM said two months into her term some view the mayor as a politician who's breaking the political mould, it's true, but others see her statements as populist point-scoring.
"Some quite loud statements of a populist nature have been made about selling expensive foreign cars," Ruslan Basygysov, a columnist for the regional Yakutia newspaper told the station. "But apart from these statements, we aren't seeing any real steps forward."
Reporting by Damien Sharkov
Next story: Relatives of ICU patients get capsule hotel
Use #NewsfromElsewhere to stay up-to-date with our reports via Twitter.