Poland seeks top 100 national dishes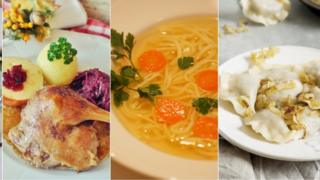 Poland's agriculture minister wants to codify Polish national cuisine, in a move that has prompted considerable debate in the country's media.
Jan Krzysztof Ardanowski says the aim is to create a canon of 100 dishes to mark this year's centenary of the restoration of Polish independence, Polish radio reports.
"We are trying to foster a rebirth of Polish cuisine, and pass it on to the international arena," he told an agricultural fair in Poznan, adding that this did not simply mean recipes, but also the "richness of its flavours and ingredients".
Members of the public have until 15 December to send their proposals to the ministry, where a panel of chefs and food historians will compile the "Canon of Polish Cuisine", which Mr Ardanowski hopes will become a definitive reference work and practical guide.
'Demand from diners and tourists'
He told the TVN24 news channel that there is a "demand for this from diners and tourists", and eateries that offer 10-15 dishes from the proposed list will have the right to display a special sign designating them a "National Cuisine Restaurant".
The minister is keen to avoid any suggestions of chauvinism by emphasising that dishes from Poland's ethnic and religious minorities are welcome.
"Jews, Germans, Russians, Ukrainians and Tatars have all left their mark on our cuisine, as a testament to our ethnic richness. They have lived among us over the centuries, and each has added dishes like Lithuanian cold beetroot soup and Russian dumplings to Poland's culinary wealth," he said.
You may also be interested in:
Cow runs off to live with Polish bison
Stork lands charity with huge phone bill
French chefs crack down on 'food porn'
Some foodies have been sharing ideas for typical dishes, especially those with a specific regional identity, while others - like noted chef Adam Chrzastowski - told TVN24 that Polish cuisine is "more about the local ingredients than the recipes".
But some Poles question whether their cuisine can really be called national at all.
"Poland has always lain on transit routes, and many armies have passed through, so we are an amalgam of many cultures - our cuisine comes from all corners of the world," writes one critic, adding that in his opinion Polish pork chops are a "poor relation of Wiener schnitzel".
And the listing of various regional delicacies has all been too much for one reader, who complains "we're growing fat, so how about a Polish diet to mark these 100 years?"
Reporting by Martin Morgan
Next story: Chinese staff fined for not walking enough
Use #NewsfromElsewhere to stay up-to-date with our reports via Twitter.