Disabled toilets: What is a Radar key?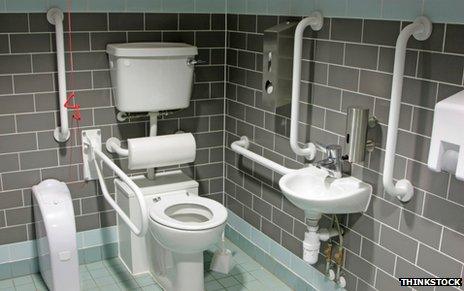 It is a large, conspicuous, silver-coloured key that opens more than 9,000 accessible toilets in the UK like magic.
The loos we're referring to are those with wide entrances and disability symbols on the door, found in public areas, office blocks, pubs or restaurants.
Unlike regular public toilets, there is often a need to lock the doors and so they are regularly only available for use on request.
Chances are that when someone needs to use it, the only compatible key is nowhere to be found and the person who might know where it is has gone awol. Hence the need for a better system.
So how about if one key existed that could unlock all the disabled toilets in the country, and only those considered eligible were allowed to have one? Voila - the Radar national key scheme. People who need to use a locked disabled loo can now "go" in peace, and quickly, without the indignity of asking someone if they can have a wee, please.
Why do accessible toilets need to be locked? You might want to avoid reading this section if you're squeamish or easily shocked.
Disabled people's toilets are big, private and less likely to be occupied than regular-sized ones. As a result they are open to misuse by the general public. Most notoriously, they are sometimes occupied by drug users or people having sex.
Some non-disabled people simply use them to avoid the queues for the "normal" loos. As lots of disabled people have bladder or bowel problems, this can have dire consequences. In our research we spoke to a woman with cerebral palsy who said she once wet herself while waiting for a disabled toilet to become available.
Part of their purpose is that they don't get used too often and so remain cleaner for longer. Like any public convenience, accessible loos can end up in bad condition if used too many times between cleans.
This causes problems for disabled people like Lisa Egan. "If a toilet is too filthy to sit on," she wrote on the Ouch messageboards, "a non-disabled woman can squat over it. I can't. I have to sit down or I'll fall down." Lisa also struggles to keep her balance if a toilet floor is covered in urine. "If I do slip over on a wet toilet floor, I'm at a much higher risk of seriously injuring myself than a non-disabled person."
Why are Radar Keys so big?
At 4in long, they are over double the length of the average Yale lock key. There are two heads to choose from, one designed for good leverage and a bow-shaped one - introduced in 2011 - for people with arthritis.
The large size of the key (sorry to go on about it), the ergonomic turning head and chunky ring, are all designed to be easier for people with physical impairments to get it out of a bag and in to the lock.
Sarah Cosby, of Disability Rights UK, is the modern-day guardian of the Radar key and has an even more basic explanation for its uncomplicated bulky shape: "[The lock] is a very simple mechanism which has to last for a long time and must withstand a lot of people locking and unlocking it daily. We could have designed a much better one but the main aim was for people to realise that they are not supposed to go in."
The first Radar toilet opened in 1981. Since then, more than 400 local authorities and thousands of businesses have joined the scheme. Some 9,000 toilets are now listed as being accessible via the Radar key but the figure is probably much higher.
Graeme Hardman from Nicholls and Clarke - the builders' merchants who have been producing the keys and locks since day one - estimates that more than a million of the distinctive keys are in use.
The idea for the key came from the Royal Association of Disability and Rehabilitation, aka Radar. It is now part of Disability Rights UK after merging with Disability Alliance and the National Centre for Independent Living in January 2012. Disability Rights UK still coordinates all things Radar key-related today.
How much does a key cost?
The key's simplicity has led to wide spread piracy - a quick web search brings up tens of unofficial sellers pedalling cheap copies. This is something the creators hope to combat when they relaunch the key later in 2013. Detail about the changes is scant.
Official Radar keys cost about £5, including postage and packing. These can be bought from participating local authorities or the Disability Rights UK shop. Some councils give them away for free.
A National Key Scheme guide is produced for purchase each year, which lists the location of every Radar loo on record. A smartphone app is also available, with added walking and driving directions. Both are £5.