Viewpoint: Should the parents of young carers get the support?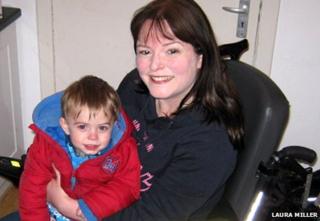 It emerged last week in a report by The Children's Society that there are almost 250,000 young carers in the UK. But do we need to shift the focus to the parents?
Every parent wants their son or daughter to develop into a caring and thriving individual and, obviously, to enjoy their childhood.
I am a wheelchair user and have health difficulties which can affect me performing some day-to-day tasks.
Currently my son is too young to be considered a young carer, so it's obvious to strangers that it is me who looks after him. But when he's a little older, say three or four, I worry that passers-by might presume that he is the one looking after Mummy, rather than vice versa. I cringe that he might get congratulated on how he is such a good boy just because he's walking next to mummy who's in a wheelchair. I know it would be well-meant but what would people be imagining? And I truly fear that, one day, he might come home from nursery with an award.
One of my biggest quandaries is how much I should expect my son to help out as he grows up.
A good parent gets their child to do household tasks. I want a boy who can tidy rooms, wash clothes and fend for himself as an adult. And I look forward to enjoying the teamwork we will always have to do so that we can all have fun as a family. To my mind this is a positive thing.
But families also look after each other, this needs to be better understood.
Beyond the tidying and dusting, the question of how much a child should be directly involved in caring for a parent is one that is obviously dear to my heart. I'm thinking of things like having my child help put my coat or shoes on; something I can't always do for myself. I don't want to be accused of being a bad parent for this.
It gets even more complex when I think about what's right and wrong, and what reactions might result. I have an undiagnosed problem that sometimes means I collapse. So, for instance, when he reaches 13 and starts maturing, should I instruct him never to come and help his (naked) mother if she falls in the bath?
Where do we draw the boundaries and why? I tend to measure this by asking: "Will this task harm him, hurt him or put him in a legally questionable area?"
If the answer is yes, then it would be inappropriate. But to leave him out of important tasks is to put him on the edge of our family life. We will always be his family and loving family members do things together.
Throughout the pregnancy I was certain of my goals as a mum, though how I was going to achieve them was not so clear.
From the start I knew I wanted to save all my best energy for Jonathan and, because I have fluctuating conditions, this would mean that I'd need help with cooking, cleaning and running the household so I have enough reserves to be a parent.
During this time I read up on what support was available, including from social services. Initially it seemed encouraging and I understood that something called Direct Payments, an agreed monthly care budget, could have allowed us to employ a care assistant.
It looked like a very practical way of enabling me to be a parent. However, the social workers we dealt with seemed to assess us with a critical attitude. They withdrew when it became clear that practical support would require them to finance it.
Since then I have met many families with a similar story and parents who fear that their child will be categorised as "at risk" if they ask for help, when all the family wants is to protect and provide for them.
It makes sense that a lack of help provision could be the reason why children are caring for parents in ways The Children's Society deems inappropriate.
Who, then, is responsible for ensuring a disabled parent is given medication, a bath or supervision, if there are no other adults or careworkers present?
It has been said that it takes a village to raise a child. The reality is that part of that "village" is the provision that the government makes towards protecting our families. If the Adult Services and Children's Services within social work came together and gave whole-family assessments that recognised the importance of supporting the parent, this would seem like a sensible place to start.
Laura Miller lives in Glasgow with her husband and 16-month-old son, Jonathan. She is a peer support volunteer for disabled parents