It's the first National Paralympics Day - but will there be a second?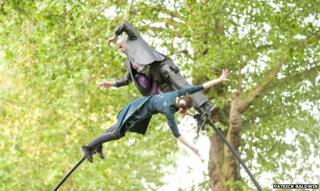 Today sees the first National Paralympics Day - with a free event held at London's Queen Elizabeth Olympic Park, combing sporting events with a showcase of disability art.
Visitors can enjoy a day of Paralympic sport at the newly re-opened Copperbox venue (which hosted Goalball during the Games) including boccia, wheelchair basketball and seated volleyball.
Liberty, the annual London disability art festival will take place alongside the sporting events. It began as a stand-alone festival in Trafalgar Square 10 years ago and in the last few years has been physically linked with the celebrations around the Paralympic games. This year it's in the Olympic Park itself.
The attractions include street theatre, dance, music and children's activities. Andrea Begley, the blind singer who won BBC's The Voice, will be appearing, as well as an attraction called the Miracoco Luminarium, described as "an immersive light sculpture", and more.
The festival's curator Bradley Hemmings says: "What's really important about Liberty is that we are all about showcasing work of extraordinary high quality that has been too long on the margins of our national cultural conversation. Events like Liberty really challenge and address that."
But the coupling of disability art with the Paralympic movement hasn't been universally welcomed.
Colin Hambrook, editor of Disability Arts Online, says that Liberty has become a conservative event that doesn't live up to its name. He says it has "an underlying ethos that everything's fine and disabled people have got all the rights they need."
Hemmings denies that the festival plays it safe. He cites one of the pieces at the festival this year, The Limbless Knight, performed by Graeae Theatre Company which he says is a very political piece about human rights.
Using the company's trademark sway poles and aerial dancing, Graeae describe the piece as "an immersive experience where nothing is as it seems... tensions are high as our human rights are on the verge of being rewritten which sparks passion, protest and a call to arms."
Hemmings co-produced the Paralympic opening ceremony with Graeae's Jenny Sealey last year. He says: "There was a seismic sense of possibility and of real presence and transformation on that night. But it's not all done on one night or with one festival, it's a continuing journey and a continuing struggle."
Sealey says Liberty is a celebration of who we all are. She says: "This year more than ever before our visibility is crucial to remind people of the ongoing battle we have to hold onto our rights, independence and dignity."
The event coincides with a new report, One Year On, which says that the government should "stop obsessing about sports participation" and focus on cultural opportunities for the disabled.
The report - from think tank Demos - captures the concerns of many leading disabled artists, concludes that many benefits to disabled arts and culture were short-term, and that the Government's legacy work remains fixated on sports participation as the only measure of long-term impact.
So, although today has been described as the first National Paralympic Day, will there be a second? The British Paralympic Association, the people behind the day, say they hope to make it an annual event, but they will "evaluate all aspects of NPD after Saturday".
Disabled actress Liz Carr worries that there may come a time when the Paralympic legacy is more hindrance than help. She says many lesser able and disabled people are worried they might not have help to get them out of bed after social care cuts next year. She says that the press mostly tend to positively highlight sporty disabled people like Paralympians who, though impressive, are only one side of the story.
"Let's not use the Paralympics as a yardstick to measure other disabled people or to beat them over the head," she says. "I'm interested in next year, will we still be talking about Paralympic legacy after two years?"
You can follow Ouch on Twitter and on Facebook, and listen to our monthly talk show