Social care - with chicken bhuna and pilau rice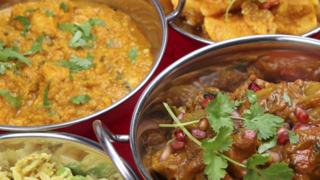 An informal Twitter campaign has led to social care workers and users all over the UK getting together for a curry.
"Love curry? Love social care? You are in!" This friendly though unlikely-sounding invitation greets you at the top of the website of the Social Care Curry Club, which brings hundreds of like-minded people together for a quarterly dose of much-needed bonhomie over a spicy meal out.
At 19:00 next Thursday, the fifth "eat-up" will take place in Indian restaurants from Maidstone to Leeds, Dundee to Exeter.
It started last July when two friends working in the social care profession, decided to open up their evening out in Birmingham to see if anyone else involved in the sector wanted to join them. They put out some invites on Twitter, and two soon became 10.
Thanks to a simple blog and the hashtag #socialcarecurry, the idea spread. A second attempt in September led to 200 people meeting for curry simultaneously in 13 restaurants around the country.
But why has it caught on?
"I'm not sure it would have been so popular if everything was hunky-dory right now," says George Julian, one of the club's founders. She says people in the profession spend their lives trying to help those who are disempowered and can get "bogged down" in it.
"The morale is really low in the sector... If you're married to someone who works in social care you don't want to hear about the moans and the challenges. It gives people a chance to come and talk without feeling they're boring their friends and family."
From social workers to service users, carers, students, executives or people with learning difficulties - anyone with a connection is welcome, as long as they have nothing to sell.
Julian is adamant that it should succeed without rules or leaders. She says: "I don't like cliques, I don't like hierarchies and I don't like people being excluded."
Many have told her they would never have attended a social care meeting or conference, but felt comfortable talking and networking informally in this way.
So why curry?
Julian (favourite dish - vegetarian thali with poppadoms) says: "The curry bit is a bit innocuous to some extent. We just needed a food. It could've been pizza club or Chinese club.
"There's only one person I know who doesn't love curry and they've suggested a carvery club. We said we're not interested in organising a social care carvery but if you would like to, then please do!"
The organisers don't keep tabs on what people discuss, but say they are aware of positive relationships and collaborations which have got off the ground as a result of the curry club.
Last year Julian tweeted Norman Lamb, minister for care and support, to ask if he'd like to host a curry night and he responded positively. "I never would've bothered to sit down and write a letter to a minister and ask if he wanted to come for a curry," says Julian. "He'd think I was mad!" They are, however, still waiting to hear back from his "people" on a date.
Inspired by #socialcarecurry, other curry nights have tentatively emerged. You could join the occupational therapists' curry club, the pharmacists' curry club or the school governors' curry club. Or maybe start one of your own.
Julian thinks it's "phenomenal" that free tools like Twitter and blogs can build a community. "What an opportunity," she says. "I think people are foolish if they don't do it, really. Most things in life are better with company and what've you got to lose?
"The worst that could happen is that it doesn't work. You would have given it a go which is more than the people who sit on the sofa watching soaps, moaning about life, do."
Follow @BBCOuch on Twitter and on Facebook, and listen to our monthly talk show