Amy Conachan: Starring in a disability sex comedy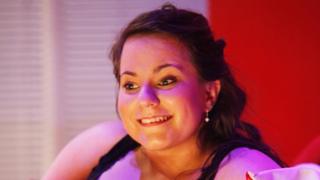 Amy Conachan is a rising young star of Scottish theatre, who's starring in a new stage comedy about the sometimes awkward reality of sex and disability.
Forthright and very open, 23-year-old actor Amy Conachan says her legs are "really small" and "don't work" because her spinal cord "doesn't go all the way down". She's already making an impact on the Scottish theatre scene, even though she's only in the second year of a BA in Acting and Performance at the Royal Conservatoire Scotland - the first disabled student on her course.
Conachan is also one of the first in her year group to be offered professional work - with some challenging material that is very close to home, as well as close to the knuckle. Wendy Hoose is a sex comedy, according to its publicity. Some reviews have preferred the phrase "comedy of manners".
It's about a one-night-stand between two twenty-somethings, Jake and Laura, for whom the course of true love (or sex) runs far from smoothly, after Jake realises his date has no legs. The play takes its title from Jake's (Scottish-accented) reaction to Laura's home, with its accessibly low kitchen worktops.
The pair have only met online, when Amy invites Jake to her flat. She is awaiting him in bed, covered up, when he first sees her. Having described herself as "legless" in texts, Jake thinks Amy means "drunk". He only discovers she means it literally during the throes of passion. The play explores the situation as it unfolds.
Amy Conachan spoke to Ouch before the play went on the road.
Tell me about the play
There are some very sexy scenes in it... and it is very politically incorrect. It's farcical and rather funny too.
Laura and Jake meet via a hook-up app which is a little like the much talked-about Tinder. Have you ever used an app like that?
I am on Tinder because absolutely everybody I know has it. It is a quick way to make a decision on someone. All you get is their Facebook profile photo, their age and their name. They appear (in your feed) if they have friends or interests in common with you. You swipe left if you don't like them. If you think they are attractive then you swipe right. If they like you too, you get a match. Then you can talk to them and can arrange to meet up if you like. I get a lot of hellos but it doesn't go any further, which is fine, because meeting people in that way freaks me out.
Is being disabled a problem for you when dating?
It is always on my mind to some extent, which is funny, because I don't really think about disability in any other aspect of my life. You are very vulnerable and it is about what they think of you - and there's still more to discover that they might think of as negative.
What is your character Laura like?
She is very sure of herself and knows what she wants from Jake. No matter how offensive or insulting he is to her, she's always able to match it with something else, while still being likable to the audience.
And are you anything like your character?
A bit. Living with a disability, your whole life makes you strong and a good judge of character. I make decisions about people really quickly and she does that in the play.
What's it like to act out scenes of a sexual nature in front of an audience?
The first couple of times were really uncomfortable but once you get through that, it becomes part of your job. I've had people ask me, "Have you had sex" or "Can you have sex?" I always think, "Oh for God's sake. Would you ask a normal person that question?"
The point of these scenes is to show the audience that disabled people do have sex and that they do enjoy it. I don't feel a great responsibility to show the world we're normal but I do hope they learn from watching because I'm aware that the question is on their minds.
Do you prefer playing disabled roles?
I'm keen to go for parts that aren't written as disabled. I feel I should be able to play those characters which, because I'm the actor, become disabled.
What's next?
After Wendy Hoose, I'm in Gerda Stevenson's new stage production Skeleton Wumman, which is all in Scots. I play a woman who was severely disabled when alive, unable to walk or talk. It is set in her afterlife. She's now a skeleton living under the sea telling stories about what happened to her during life.
Are you becoming the go-to Scottish disabled actor?
I'm enjoying the work to be honest so I'll take what I'm given. I've realised that at first, while my name and my face is getting out there, I am most likely to be cast in disabled roles. But hopefully, in the long run, it will fizzle out and I'll just get parts for being an actor.
Wendy Hoose, a co-production between theatre companies Birds of Paradise and Random Accomplice, tours Scotland during March 2014.
Follow @BBCOuch on Twitter and on Facebook, and listen to our monthly talk show