For awareness, now read 'disability confident'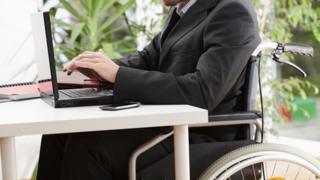 The phrase "disability confident" has become steadily more prominent in the past year. But what does it mean?
In short, it's what the governments want employers to be - so they will then employ more disabled people.
What is it?
It's the name of a campaign by the Department for Work and Pensions (DWP) designed to help companies become more willing to employ disabled staff, by offering advice and breaking down unhelpful work-related myths.
Although discrimination laws have been in place since 1995, disability employment for those of working age has remained stubbornly low at around the 50% mark. The government has tried - by means of controversial welfare changes - to nudge disabled people back into work. But, even if many disabled people are indeed keen to work, employers aren't always as willing to take them on - and this is the gap the DWP's campaign is attempting to bridge.
Disability Confident was initially launched in July 2013 by the then minister for disabled people, Esther McVey, and met with enthusiasm by many disabled people and employers. It spawned events around the UK supported by well-known names such as paralympian Sophie Christianson and Falklands veteran Simon Weston, and companies including KPMG, Santander and Sainsbury's.
So, who's getting disability confident?
When the phrase started to spread, many disabled people mistook its meaning, thinking it referred to gaining more confidence in life as a disabled person.
Though originally introduced by the government, it is now being used by others. Big corporates, including the BBC, have given their internal awareness training a similar label.
Is everyone disability confident about getting people back to work?
Direct action organisation Disabled People Against Cuts (DPAC) remain sceptical - they dub it Disability CON-fident (capitalising the first three letters in "confident"). This week a DPAC member interrupted an event in the DWP's series held at the Hilton London Canary Wharf Hotel, which was co-hosted by Barclays.
Linda Burnip, co-founder of DPAC, defends the action: "If any of the firms there had been serious about employing disabled people they would have done it in the last 30 years and not just show their face at some 'posh do'." She also says that not all disabled people can do enough paid work to earn enough to live.
Last year, disability consultant Phil Friend wrote a blog for Ouch, in which he said that the government was focusing on the wrong people. He said that if it wanted to narrow the unemployment gap, the DWP should be helping the disabled to become more confident in themselves.
The debate continues on on Twitter - the DWP is using the hashtag #disabilityconfident to put out positive message. Many disabled people, meanwhile, are using it to express their displeasure - this tweet from @wtbDavidG is fairly typical: "The irony of #disabilityconfident is its only venue where #DWP claim we're 'inspiring', any other time we're those lazy, scrounging frauds."
Follow @BBCOuch on Twitter and on Facebook, and listen to our monthly talk show