See Hear: Signing on the stage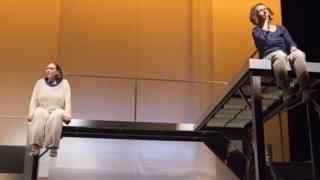 Deaf people have better access to the theatre than ever before, and are able to enjoy mainstream plays through interpreters and captions. But work specifically created for deaf performers using British Sign Language (BSL) holds a special place in many deaf people's hearts.
One of the earliest known productions of a play in sign language by deaf actors was a performance of Shakespeare at a Kensington theatre in 1886. The audience was mostly deaf, with the exception of a few hearing journalists, one of whom gave a scathing review: "The performance was tedious and especially so to those invited to attend... The actors were as a rule amateurs but certainly did not suffer from the amateur disability of not knowing what to do with their hands."
Deaf theatre remained amateur for the first half of the 20th Century, with performances confined mostly to the country's deaf clubs. But this all changed in 1960 when Pat Keysell, a mime artist (and later a presenter on the children's TV show Vision On) put out an advertisement for deaf actors and the RNID Mime group was formed.
It was a time in which oral education and speech was in vogue - so early performances by the group were a mix of speech and mime. It wasn't until Keysell saw the work of the National Theatre of the Deaf in America that the group was rebranded to The British Theatre of the Deaf in 1968 and began to perform in BSL.
Deaf actress Jean St Clair was just 17 when she first heard about the British Theatre of the Deaf (BTD). Accompanying another deaf actor to their rehearsals, she was impressed by their work. "What they were doing was mind-blowing," she says. "I wanted to join there and then."
Jean soon became a full member of the group, but faced a dilemma. Weekly rehearsals clashed with the deaf club in Romford, an important link with her local deaf community. Being ambitious, she chose to go to BTD instead, a decision which was not well received by her family and friends.
"Theatre back then was 'hearing' and alien and [they said] I was a snob for abandoning my roots," says St Clair.
St Clair performed professionally with the BTD and became a member of the actors union, Equity. She went on to perform at the Birmingham Rep, where she was the first UK deaf actress in an otherwise hearing production. St Clair also trod the boards of the West End, as sign language user Sara Norman, in the famous deaf play Children of a Lesser God.
Deaf theatre struggled in the UK in the 1980s and '90s and the actress left to work down under, for Australian Theatre of the Deaf (ATOD).
Now - almost 130 years on from that first amateur performance of Shakespeare in Kensington - deaf audiences are spoilt for choice when it comes to seeing work performed in sign language.
Deafinitely Theatre is staging a second Shakespeare adaptation at the Globe Theatre in London with A Midsummer Night's Dream this June, and Graeae Theatre Company is still touring with an adaptation of The Threepenny Opera, accessible in sign language, captions and with a mixed deaf and disabled cast.
Forty years after her first professional tour with the BTD, Jean has just finished touring with Fingersmiths, the company she co-founded with Jeni Draper. Their play Frozen uses a bilingual style with one deaf and one hearing actor playing each role, each performing in speech and sign language.
Reflecting on four decades in theatre, the biggest change Jean has witnessed is in attitude. When she was a young woman she was seen as a traitor for wanting to be an actress. Now after performances of Frozen, deaf people come up to Jean and tell her "seeing you perform made me very proud to be deaf".
See Hear's Deaf Theatre special is showing at 10.50am on Wednesday 16 April on BBC TWO, and on iPlayer
Email us at seehear@bbc.co.uk with your stories and comments, like our Facebook page and enjoy watching our programme.
Follow @BBCOuch on Twitter and on Facebook, and listen to our monthly talk show