Out on the streets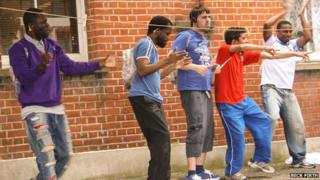 A "walking" theatre show aims to show life from the perspective of people with learning disabilities.
"Without breaking or bending a toothpick, you can spell the word "thin" with exactly seven toothpicks, with no letter sharing a toothpick used by another letter. True? Or false?"
This complicated brainteaser is fired at 40 participants on the streets of Shoreditch, east London, at the beginning of a walking theatre show, Eye Queue Hear. Structured like a sightseeing tour, it promises "fantastic perceptions of urban life" from the unique perspective of adults with learning disabilities.
It's performed by Access All Areas, a London-based specialist theatre company. Artistic director Nick Llewellyn says that the IQ test questions, taken from an example they found online, represent how the actors who helped to create the piece felt when they had to learn things by heart and problem-solve at school. He says that kind of learning "made them feel isolated - it is not their way of experiencing the world".
He says that the actors wanted to make something that would reflect "how they see the world, how others see them and different structures in society that make them feel... less than whole, if you like".
The show begins at a bus stop, where the actors gather and perform abstract movements, but don't speak. Audience and cast wear headphones, through which they hear the soundtrack. After the barked-out test questions this changes to gentler pre-recorded voices from the actors, accompanying their movements.
"Timetable number eight, Monday to Friday, the first bus is 06:08, that's six in the morning. 06:16, 06:26," says the disembodied voice of Lee Philips, who has autism and a learning disability. Lee can use and memorise a bus timetable (although the producers later joke that he invariably arrives at rehearsals an hour late).
Next, the audience is fed a confusing mobile phone conversation between two people trying to find each other in a busy place. Later, a voice says: "They think I might be weird and odd."
Two female performers struggle to pronounce "embarrassing" and "unattractive" over and over while a man can be heard saying "intimidated" in the background. A black male actor says that people say he looks like a chimpanzee. Not easy things to hear, but they help paint a picture of how the performers sometimes feel and what people might say to them when out and about.
Moving through Brick Lane on a hot and busy Saturday, avoiding an old mattress and other detritus en route, the actors perform routines that are sometimes tightly choreographed, and at other times more improvised.
As the performance weaves past shops, poles and other urban markers, regular pedestrians pause to watch. Some follow the show before realising they won't be able to fully appreciate what's happening because they don't have earphones like the walking audience.
The dialogue has been edited together from many hours of conversations while travelling the streets of east London doing workshops and activities to capture their thoughts as they walked. Learning scripts, pronouncing words and voice projection can be tricky for some people with learning disabilities, so the pre-recordings help tell the story as the performers concentrate on the visuals.
The actors were asked to bring in treasured objects, as another way of discovering what makes them tick. They carry them throughout the show in see-through backpacks.
"I was the philosopher of the group," says one of the actors, Paul Christian, who has cerebral palsy and a mild learning disability. His backpack contains a measuring tape, a watch and some keys. "I was trying to interpret to the people about how I see the world."
Christian says the tape measure expresses how the world can sometimes close in on people who are disabled. And the watch "symbolises not just time, but literally the time we have left on this earth". He admits, "time is a mathematical thing and I'm not very good at maths. I'm trying my best to learn about time but it is confusing."
The keys are for his first flat into which he recently moved on his own. He says they represent not just independence but also "how we can unlock people's perceptions of us if they are willing to learn about how to work with disabled people".
Llewellyn says they have been rehearsing on Brick Lane and surrounding streets for a while and that even though the actors, one with Down's syndrome and another with CP, have been dancing, running and making faces at shop windows, there has been no trouble or negative feedback - although there have been some bemused looks.
The show started with narrow streets and frustrations but by the end it has moved on to the more positive theme of freedom.
It finishes in a park, where not even a noisy party of 15 young women drinking champagne in a nearby gazebo and taking photos of the cast with their smartphones, can distract the seven actors from finishing by each choosing a tall tree and calmly circling it.
Eye Queue Hear is being performed at the Bikeshed Theatre, Exeter on 5 and 6 June.
Follow @BBCOuch on Twitter and on Facebook, and listen to our monthly talk show