Woman on a mission to make chronic illness 'suck less'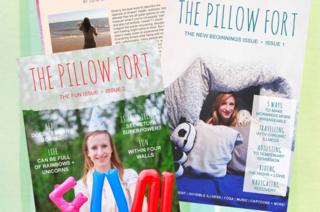 A year ago, 24-year old Lizzy Goddard took to social media and posted pictures of the microwavable slippers she had bought, and a T-shirt with the slogan "sleep is my therapy". Diagnosed with ME and fibromyalgia at 16, she says people her age with similar debilitating conditions "went crazy" for them.
The theology graduate from Reading saw a gap in the market and opened an online shop re-selling products that young people with chronic illness might enjoy. It is called The Pillow Fort after the dens children make with their bed-clothes. She says her target market spends a lot of time in bed surrounded by soft toys and pillows and the name conjures thoughts which are "strong and supportive, yet squishy and comforting".
Goddard, who is too ill to work for more than a couple of hours at a time, has since expanded the project by adding a paid-for downloadable magazine, and a Facebook group which has 350 members called The Pillow Fighters Club. The only rule of all things Pillow Fort? That every contribution has to be positive.
She spoke to Ouch this week:
What's a typical day like for you?
I do yoga or stretching of some sort when I wake, because otherwise I feel quite stiff and achy. Then I spend most of my day on the computer, be that faffing on social media, on The Pillow Fort or running my other little business selling zines. I don't constantly push myself to do things because then I burn out and I can spend weeks in bed. So it's about pacing myself, having breaks and idling my mind, then I can do more.
I volunteer at Nottingham Women's centre once a week, which has been great for my self-confidence and getting out of the house. Now, I try to get out every other day, even if it's just to the post office.
How essential is the internet to young people who can't leave their beds very often?
The more bed-bound you are, the more important it becomes. With modern technology you can be lying down and, with minimal effort, still feel engaged and connected with people. Some who are too ill to go out or to school, live vicariously through friends who are doing better and celebrate in their successes. A nice thing about Pillow Fighters club is that you can say, "I went to the coffee shop today with my friends and I've not done that in two years" and everyone understands what a huge deal that is. Online has its negatives too. Some other groups can be dark and ranty.
What makes your community unique?
The Pillow Fort is exclusively for positive vibes, to encourage people to focus on what's going well in their lives and to notice what there is outside chronic illness. Once your mental health gets better, you have so much more "cope" for your physical health on a day-to-day basis.
Some say I shouldn't create a positive-only space because some people cannot be positive due to mental health or whatever. They don't like that I'm almost actively excluding people who really like the negative, wallowy type chronic illness groups. I say, that's fine, don't join us, the rest of the internet is exactly for you.
Are you a young person with chronic illness who spends lots of time indoors? Share your experiences of what some people call bed life by emailing ouch@bbc.co.uk or using the hashtag #bedlife.
Follow @BBCOuch on Twitter and on Facebook, and listen to our monthly talk show