Disabled people seen at work in new photo exhibition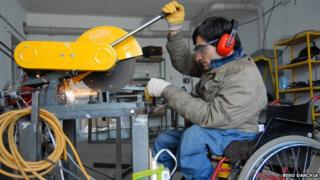 A photography exhibition which challenges myths about disability and employment has opened in Liverpool.
Featuring large photographs taken in the city and from countries across the world, Working Lives: Here and There shows active disabled people in their places of work.
The images have been created to challenge negative myths surrounding disability and employment. Colin McPherson, one of the photographers, says: "I wanted to produce something that looked positive, direct, optimistic and powerful," and for this the disabled subjects had to be seen working productively, he says.
The exhibition has been commissioned by DaDaFest - a disability and Deaf arts organisation based in Liverpool - and will run until 25 July 2014.
Follow @BBCOuch on Twitter and on Facebook, and listen to our monthly talk show