Is starting a new charity always a good thing?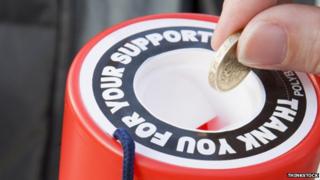 There are too many charities doing the same thing and competing unnecessarily, says the chief executive of a leading disability charity. So should it be made harder to register a new charity and is duplication really a problem?
"I wanted to weep recently when I heard the CEO of a charity very proudly telling me that along with the board and the management team he had spent a whole month reading aloud a book so that his charity had their very first talking book," says Lesley-Anne Alexander, chief executive officer at the Royal National Institute of Blind People. Speaking to the BBC she says: "It was a talking book which was already in the RNIB Talking Book library, it had been read professionally by an actor donating their time, was studio produced and is a very popular title."
"There are 2,000 veterans charities in the UK, that can't be right. 733 charities supporting blind people - we can't need that number."
Alexander recently spoke out in a lecture at London's Cass Business School blaming some of the duplication problems in the sector on the fact that too many new charities are set up as a knee-jerk reaction by people who have been affected by something they've seen, or something which has happened to them personally.
"Quite often people will set up a charity in the name of a loved one and I understand entirely those reactions but is that really the best way to use that energy and commitment?"
Alexander says she would like the Charity Commission to introduce a stage in the form-filling to get people to research whether that help already exists before pouring effort into setting up what might be a duplicate project.
There are 160,000 registered charities in England and Wales, of that 21,120 are disability charities. The commission receives about 30 applications to start a new charity every week, though not all get established.
The bigger national charities have become more professional in recent years. They use their money efficiently and are likely to be very different from when they were founded. They are able to campaign and provide services at scale using centralised expertise and funds. So rather than set up new small charities, perhaps people should join in with a bigger charity's efforts instead?
Andy Ricketts, deputy editor at Third Sector Magazine, says: "There is an increasing awareness that charities need to operate efficiently and professionally and that the biggest charities are good examples of that. But other people in the sector would say that you can go too far and you don't want to forget the beneficiaries - which some people fear might happen if the operation becomes too slick and corporate."
Ricketts says that though some believe in rationalisation of charities, "others are on the 'let a thousand flowers bloom' side and say small charities give you passion".
He adds: "Who's to say that, just because there would be less duplication, this means that charities would achieve more?"
In June the Charity Commission updated their registration guidance document with a new step which, before anything else, asks potential applicants to "think carefully" before setting up a new charity. It suggests alternatives like volunteering for an existing charity, setting up a named donor fund with a Community Foundation or establishing a charitable trust with the Charities Aid Foundation.
The registration process itself has not changed.
In a recent open letter, Sir Stuart Etherington, chief executive of the National Council for Voluntary Organisations says it is not the role of the regulator to put barriers in the way, and adds: "I am in no doubt: I think people getting together to start charities is a good thing - such initiative helps to keep our sector fresh and evolving."
The NCVO chief places emphasis on the human desire to reach out and help others and wants to encourage it. Echoing his thought is Tracie Tappenden, director of VICTA, a national charity supporting blind children and their families. She says: "We encourage groups of parents in local areas to set up charities, that's not to take over the world but it's to be a charity in their own right. Maybe they've all got blind kids, they need a bit of support and they get that from each other. Becoming a charity helps them fund coffee mornings, outings and equipment and aids them in applying for further funding.
"For us as a charity what we want to do is reach the kids and the families. That's our main aim," says Tappenden.
Smaller charities like VICTA and those they help can provide ongoing and more direct support, something that RNIB's Alexander recognises. Her vision is to create a federation of charities in the blind sector who can do what they do best locally but, she says, where the umbrella RNIB could provide support that works at scale like talking books or a campaign against welfare reform to avoid duplication.
Alexander's other contention is that competition doesn't help. Her charity bids for money to provide local authority rehab contracts, eye clinic support or provision of school places for multiply disabled blind children and more.
Citing an example where RNIB and Action for Blind People were both fighting for a local Department for Work and Pensions contract to help blind people back to work, she says: "We were the only two competitors for the contract and we were competing on price. So in effect all we were doing was driving down the price."
She says health and social care is already under-funded and by competing for contracts "all that [charities] are doing is colluding with the under-funding of services." Action and RNIB have since merged.
Follow @BBCOuch on Twitter and on Facebook, and listen to our monthly talk show